The International Handbooks of Museum Studies, 4 Volume Set
ISBN: 978-1-4051-9850-9
2624 pages
July 2015, Wiley-Blackwell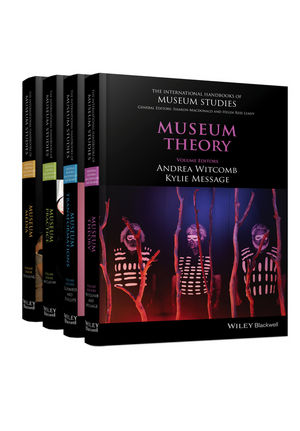 The International Handbooks of Museum Studies bring together original essays by a global team of experts to provide a state-of-the-art survey of the field of museum studies.
Offers unprecedented depth of coverage and breadth of scholarship in this interdisciplinary field

Accessibly structured into four thematic volumes exploring all aspects of museum theory, practice, controversies, and the impact of new technologies

Includes a treasure trove of examples and original case studies

Features original essays by an international team, including leading academics and practitioners, as well as up-and-coming names in the field

Provides an indispensable resource for the study of the development, roles, and significance of museums in contemporary society

4 Volumes

www.museumstudieshandbooks.com
See More
VOLUME 1: MUSEUM THEORY
List of Illustrations ix
About the Editors xiii
Notes on Contributors xv
Acknowledgments xvii
Preface xix
Museum Theory: An Expanded Field xxvii
Kylie Message and Andrea Witcomb
Part I Thinking about Museums 1
1. Thinking (with) Museums: From Exhibitionary Complex to Governmental Assemblage 3
Tony Bennett
2. Foucault and the Museum 21
Kevin Hetherington
3. What, or Where, Is the (Museum) Object?: Colonial Encounters in Displayed Worlds of Things 41
Sandra H. Dudley
4. Anarchical Artifacts: Museums as Sites for Radical Otherness 63
Janice Baker
5. (Post-) Cartographic Urges: The Intersection of Museums and Tourism 79
Russell Staiff
6. Museums, Human Rights, and Universalism Reconsidered 93
Jennifer Barrett
7. The Democratic Horizons of the Museum: Citizenship and Culture 117
Peter Dahlgren and Joke Hermes
8. Museums, Ecology, Citizenship 139
Toby Miller
Part II Disciplines and Politics 157
9. Reflexive Museology: Lost and Found 159
Shelley Ruth Butler
10. The Art of Anthropology: Questioning Contemporary Art in Ethnographic Display 183
Haidy Geismar
11. Change and Continuity: Art Museums and the Reproduction of Art-Museumness 211
Ien Ang
12. Cool Art on Display: The Saatchi Phenomenon 233
Jim McGuigan
13. Contentious Politics and Museums as Contact Zones 253
Kylie Message
14. Emotions in the History Museum 283
Sheila Watson
15. The Presence of the Past: Imagination and Affect in the Museu do Oriente, Portugal 303
Elsa Peralta
16. Toward a Pedagogy of Feeling: Understanding How Museums Create a Space for Cross-Cultural Encounters 321
Andrea Witcomb
17. The Liquid Museum: New Institutional Ontologies for a Complex, Uncertain World 345
Fiona Cameron
Part III Theory from Practice/Practicing Theory 363
18. The Displaced Local: Multiple Agency in the Building of Museums Ethnographic Collections 365
Howard Morphy
19. The World as Collected; or, Museum Collections as Situated Materialities 389
Fredrik Svanberg
20. Ambient Aesthetics: Altered Subjectivities in the New Museum 417
Natalia Radywyl, Amelia Barikin, Nikos Papastergiadis and Scott McQuire
21. Museum Encounters and Narrative Engagements 437
Philipp Schorch
22. Theorizing Museum and Heritage Visiting 459
Laurajane Smith
23. The Museum in Hiding: Framing Conflict 485
Amelia Barikin, Lyndell Brown and Charles Green
24. Preserving/Shaping/Creating: Museums and Public Memory in a Time of Loss 511
James B. Gardner
25. Sites of Trauma: Contemporary Collecting and Natural Disaster 531
Liza Dale-Hallett, Rebecca Carland and Peg Fraser
VOLUME 2: MUSEUM PRACTICE
List of Illustrations ix
Volume Editors xiii
General Editors xv
Contributors xvii
Acknowledgements xix
The International Handbooks of Museum Studies - Preface and Acknowledgments xxi
Contents of the International Handbooks xxix
Introduction: Grounding Museum Studies: Introducing Practice xxxvii
Conal McCarthy
Part I Priorities 1
1. The Essence of the Museum: Mission, Values, Vision 3
David Fleming
2. Governance: Guiding the Museum in Trust 27
Barry Lord and Rina Zigler
3. Policies, Frameworks, and Legislation: The Conditions Under Which English Museums Operate 43
Sara Selwood and Stuart Davies
4. Reconceptualizing Museum Ethics for the Twenty-First Century: A View from the Field 69
Janet Marstine, Jocelyn Dodd and Ceri Jones
5. Museum Measurement: Questions of Value 97
Carol A. Scott
6. Developing Audiences for the Twenty-First Century Museum 123
Graham Black
Part II Resources 153
7. Balancing Mission and Money: Issues in Museum Economics 155
Ted Silberberg and Gail Dexter Lord
8. Tate and BP – Oil and Gas as the New Tobacco?: Arts Sponsorship, Branding, and Marketing 179
Derrick Chong
9. From Idiosyncratic to Integrated: Strategic Planning for Collections 203
Jim Gardner
10. Collection Care and Management: History, Theory, and Practice 221
John E. Simmons
11. The Future of Collecting in "Disciplinary" Museums: Interpretive, Thematic, Relational 249
Nick Merriman
12. Managing Collections or Managing Content?: The Evolution of Museum Collections Management Systems 267
Malcolm Chapman
13. Conservation Theory and Practice: Materials, Values, and People in Heritage Conservation 293
Dean Sully
Part III Processes 315
14. From Caring to Creating: Curators Change Their Spots 317
Ken Arnold
15. The Pendulum Swing: Curatorial Theory Past and Present 341
Halona Norton-Westbrook
16. Planning for Success: Project Management for Museum Exhibitions 357
David K. Dean
17. Museum Exhibition Tradecraft: Not an Art, but an Art to It 379
Dan Spock
18. Museum Exhibition Practice: Recent Developments in Europe, Canada, and Australia 403
Linda Young, with Anne Whitelaw and Rosmarie Beier-de Haan
19. A Critique of Museum Restitution and Repatriation Practices 431
Piotr Bienkowski
20. Rewards and Frustrations: Repatriation of Aboriginal and Torres Strait Islander Ancestral Remains by the National Museum of Australia 455
Michael Pickering
Part IV Publics 479
21. The "Active Museum": How Concern with Community Transformed the Museum 481
Elizabeth Crooke
22. Visitor Studies: Toward a Culture of Reflective Practice and Critical Museology for the Visitor-Centered Museum 503
Lee Davidson
23. Translating Museum Meanings: A Case for Interpretation 529
Kerry Jimson
24. Learning, Education, and Public Programs in Museums and Galleries 551
John Reeve and Vicky Woollard
25. Reviewing the Digital Heritage Landscape: The Intersection of Digital Media and Museum Practice 577
Shannon Wellington and Gillian Oliver
Afterword: The Continuing Struggle for Diversity and Equality 599
Eithne Nightingale
Museum Practice and Mediation: An Afterword 613
Anthony Alan Shelton
Index
VOLUME 3: MUSEUM MEDIA
List of Illustrations ix
About the Editors xiii
Notes on Contributors xv
Acknowledgments xvii
Preface xix
Museum Media: An Introduction xxvii
Michelle Henning
Part I The Museum as Medium 1
1 Museums and Media Archaeology: An Interview with Wolfgang Ernst 3
Michelle Henning
2 Media Archaeology of/in the Museum 23
Andrew Hoskins and Amy Holdsworth
3 Museums and the Challenge of Transmediation: The Case of Bristol's Wildwalk 43
Nils Lindahl Elliot
4 Mediatized Memory: Video Testimonies in Museums 69
Steffi de Jong
5 Visible and Invisible Institutions: Cinema in the French Art Museum 95
Jenny Chamarette
6 The Museum as TV Producer: Televisual Form in Curating, Commissioning, and Public Programming 121
Maeve Connolly
7 SimKnowledge: What Museums Can Learn from Video Games 145
Seth Giddings
Part II Mediation and Immersion 165
8 The Life of Things 167
Ivan Gaskell
9 Lighting Practices in Art Galleries and Exhibition Spaces, 1750–1850 191
Alice Barnaby
10 There's Something in the Air: Sound in the Museum 215
Rupert Cox
11 Aesthetics and Atmosphere in Museums: A Critical Marketing Perspective 235
Brigitte Biehl-Missal and Dirk vom Lehn
12 Museums, Interactivity, and the Tasks of "Exhibition Anthropology" 259
Erkki Huhtamo
13 Keeping Objects Live 279
Fiona Candlin
Part III Design and Curating in the Media Age 303
14 Total Media 305
Peter Higgins
15 From Object to Environment: The Recent History of Exhibitions in Germany and Austria 327
Bettina Habsburg-Lothringen and Translated by Mark Miscovich
16 Museums as Spaces of the Present: The Case for Social Scenography 349
Beat Hachler Translated by Niall Hoskin
17 (Dis)playing the Museum: Artifacts, Visitors, Embodiment, and Mediality 371
Karin Harrasser
18 Transforming the Natural History Museum in London: Isotype and the New Exhibition Scheme 389
Sue Perks
19 Embodiment and Place Experience in Heritage Technology Design 419
Luigina Ciolfi
Part IV Extending the Museum 447
20 Open and Closed Systems: New Media Art in Museums and Galleries 449
Beryl Graham
21 Diffused Museums: Networked, Augmented, and Self-Organized Collections 473
John Bell and Jon Ippolito
22 Mobile in Museums: From Interpretation to Conversation 499
Nancy Proctor
23 Moving Out: Museums, Mobility, and Urban Spaces 527
Mark W. Rectanus
24 Beyond the Glass Case: Museums as Playgrounds for Replication 553
Petra Tjitske Kalshoven
25 With and Without Walls: Photographic Reproduction and the Art Museum 577
Michelle Henning
26 The Elastic Museum: Cinema Within and Beyond 603
Haidee Wasson
Index
VOLUME 4: MUSEUM TRANSFORMATIONS
About the Editors ix
Contributors xi
Preface xiii
Introduction: Museums in Transformation: Dynamics of Democratization and Decolonization xxi
Annie E. Coombes and Ruth B. Phillips
Part I Difficult Histories 1
1. The Holocaust Memorial in Berlin and Its Information Center: Concepts, Controversies, Reactions 3
Sibylle Quack
2. Ghosts of Future Nations, or The Uses of the Holocaust Museum Paradigm in India 29
Kavita Singh
3. The International Difficult Histories Boom, the Democratization of History, and the National Museum of Australia 61
Bain Attwood
4. Where Are the Children? and "We Were So Far Away …": Exhibiting the Legacies of Residential Schools, Healing, and Reconciliation 85
Jonathan Dewar
5. Recirculating Images of the "Terrorist" in Postcolonial Museums: The Case of the National Museum of Struggle in Nicosia, Cyprus 113
Gabriel Koureas
6. Reactivating the Colonial Collection: Exhibition-Making as Creative Process at the Tropenmuseum, Amsterdam 133
Mary Bouquet
7. "Congo As It Is?": Curatorial Reflections on Using Spatial Urban History in the Memory of Congo: The Colonial Era Exhibition 157
Johan Lagae
8. Between the Archive and the Monument: Memory Museums in Postdictatorship Argentina and Chile 181
Jens Andermann
9. The Gender of Memory in Postapartheid South Africa: The Women's Jail as Heritage Site 207
Annie E. Coombes
Part II Social Agency and the Museum 227
10. An Ethnography of Repatriation: Engagements with Erromango, Vanuatu 229
Lissant Bolton
11. Of Heritage and Hesitation: Reflections on the Melanesian Art Project at the British Museum 249
Nicholas Thomas
12. The Blackfoot Shirts Project:"Our Ancestors Have Come to Visit" 263
Alison K. Brown and Laura Peers
13."Get to Know Your World": An Interview with Jim Enote, Director of the A:shiwi A:wan Museum and Heritage Center in Zuni, New Mexico 289
Gwyneira Isaac
14. The Paro Manene Project: Exhibiting and Researching Photographic Histories in Western Kenya 311
Christopher Morton and Gilbert Oteyo
15. Reanimating Cultural Heritage: Digital Curatorship, Knowledge Networks, and Social Transformation in Sierra Leone 337
Paul Basu
16. On Not Looking: Economies of Visuality in Digital Museums 365
Kimberly Christen Withey
17. Preserving the Physical Object in Changing Cultural Contexts 387
Miriam Clavir
Part III Museum Experiments 413
18. The Last Frontier: Migratory Culture, Video, and Exhibiting without Voyeurism 415
Mieke Bal
19. Public Art/Private Lives: The Making of Hotel Yeoville 439
Tegan Bristow, Terry Kurgan and Alexander Opper
20. Museums, Women, and the Web 471
Reesa Greenberg
21. Möbius Museology: Curating and Critiquing the Multiversity Galleries at the University of British Columbia Museum of Anthropology 489
Jennifer Kramer
22. When You Were Mine: (Re)Telling History at the National Museum of the American Indian 511
Paul Chaat Smith
23. Against the Edifice Complex: Vivan Sundaram's History Project and the Colonial Museum in India 527
Saloni Mathur
24. Can National Museums be Postcolonial?: The Canadian Museum for Human Rights and the Obligation of Redress to First Nations 545
Ruth B. Phillips
Index
See More
General Editors:

Sharon Macdonald is Alexander von Humboldt Professor in Sociocultural Anthropology and European Ethnology at the Humboldt University, Berlin.
Helen Rees Leahy is Professor of Museology and Director of the Centre for Museology at the University of Manchester.
Volume Editors:
Museum Theory
Andrea Witcomb is Professor and Director of the Cultural Heritage Centre for Asian and the Pacific at Deakin University, Australia.
Kylie Message is Associate Professor and Head of the School of Archaeology and Anthropology at the Australian National University.
Museum Practice
Conal McCarthy is Associate Professor and Director of the Museum and Heritage Studies program at Victoria University of Wellington, New Zealand.
Museum Media
Michelle Henning is Senior Lecturer in Photography and Visual Arts in the Media Department, School of Art, Design and Media at the University of Brighton.
Museum Transformations
Annie E. Coombes is Professor of Material and Visual Culture at Birkbeck, University of London.
Ruth B. Phillips is Canada Research Chair in Modern Culture and Professor of Art History at Carleton University, Canada.
See More