Explorations in New Cinema History: Approaches and Case Studies
ISBN: 978-1-4051-9950-6
Paperback
352 pages
May 2011, Wiley-Blackwell
US $48.95

Add to Cart
This price is valid for United States. Change location to view local pricing and availability.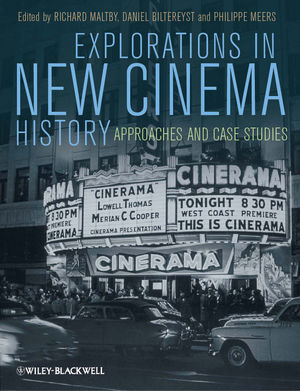 Notes on Contributors.
Acknowledgements.
Part 1 Mapping Cinema Experiences.
1 New Cinema Histories (Richard Maltby).
2 Reimagining the History of the Experience of Cinema in a Post-Moviegoing Age (Robert C. Allen).
3 Putting Cinema History on the Map: Using GIS to Explore the Spatiality of Cinema (Jeffrey Klenotic).
4 What to do with Cinema Memory? (Annette Kuhn).
Part 2 Distribution, Programming and Audiences.
5 Social Class, Experiences of Distinction and Cinema in Postwar Ghent (Daniel Biltereyst, Philippe Meers and Lies Van de Vijver).
6 Distribution and Exhibition in The Netherlands, 1934–1936 (Clara Pafort-Overduin).
7 Patterns in First-Run and Suburban Filmgoing in Sydney in the mid-1930s (John Sedgwick).
8 From Hollywood to the Garden Suburb (and Back to Hollywood): Exhibition and Distribution in Australia (Mike Walsh).
9 Hollywood and its Global Audiences: A Comparative Study of the Biggest Box Office Hits in the United States and Outside the United States Since the 1970s (Peter Krämer).
10 Blindsiding: Theatre Owners, Political Action and Industrial Change in Hollywood, 1975–1985 (Deron Overpeck).
Part 3 Venues and their Publics.
11 'No Hits, No Runs, Just Terrors': Exhibition, Cultural Distinctions and Cult Audiences at the Rialto Cinema in the 1930s and 1940s (Tim Snelson and Mark Jancovich).
12 Going Underground with Manny Farber and Jonas Mekas: New York's Subterranean Film Culture in the 1950s and 1960s (Peter Stanfield).
13 Searching for the Apollo: Black Moviegoing and its Contexts in the Small-Town US South (Arthur Knight).
14 Film Distribution in the Diaspora: Temporality, Community and National Cinema (Deb Verhoeven).
Part 4 Cinema, Modernity and the Local.
15 The Social Biograph: Newspapers as Archives of the Regional Mass Market for Movies (Paul S. Moore).
16 Modernity for Small Town Tastes: Movies at the 1907 Cooperstown, New York, Centennial (Kathryn Fuller-Seeley).
17 Silent Film Genre, Exhibition and Audiences in South India (Stephen Putnam Hughes).
18 The Last Bemboka Picture Show: 16 mm Cinema as Rural Community Fundraiser in the 1950s (Kate Bowles).
Index.