A Companion to Roman Architecture
ISBN: 978-1-4051-9964-3
614 pages
December 2013, Wiley-Blackwell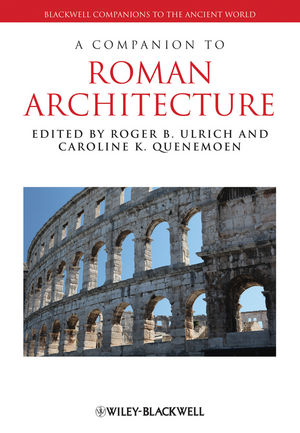 A Companion to Roman Architecture presents a comprehensive review of the critical issues and approaches that have transformed scholarly understanding in recent decades in one easy-to-reference volume.
Offers a cross-disciplinary approach to Roman architecture, spanning technology, history, art, politics, and archaeology
Brings together contributions by leading scholars in architectural history
An essential guide to recent scholarship, covering new archaeological discoveries, lesser known buildings, new technologies and space and construction
Includes extensive, up-to-date bibliography and glossary of key Roman architectural terms
See More
List of Illustrations viii
Contributors xiii
Maps/General Images xviii
Introduction 1
1. Italic Architecture of the Earlier First Millennium BCE 6
Jeffrey A. Becker
2. Rome and Her Neighbors: Greek Building Practices in Republican Rome 27
Penelope J.E. Davies
3. Creating Imperial Architecture 45
Inge Nielsen
4. Columns and Concrete: Architecture from Nero to Hadrian 63
Caroline K. Quenemoen
5. The Severan Period 82
Edmund V. Thomas
6. The Architecture of Tetrarchy 106
Emanuel Mayer
7. Architect and Patron 127
James C. Anderson, jr.
8. Plans, Measurement Systems, and Surveying: The Roman Technology of Pre-Building 140
John R. Senseney
9. Materials and Techniques 157
Lynne C. Lancaster and Roger B. Ulrich
10. Labor Force and Execution 193
Rabun Taylor
11. Urban Sanctuaries: The Early Republic to Augustus 207
John W. Stamper
12. Monumental Architecture of Non-Urban Cult Places in Roman Italy 228
Tesse D. Stek
13. Fora 248
James F.D. Frakes
14. Funerary Cult and Architecture 264
Kathryn J. McDonnell
15. Building for an Audience: The Architecture of Roman Spectacle 281
Hazel Dodge
16. Roman Imperial Baths and Thermae 299
Fikret K. Yegül
17. Courtyard Architecture in the Insulae of Ostia Antica 324
Roger B. Ulrich
18. Domus/Single Family House 342
John R. Clarke
19. Private Villas: Italy and the Provinces 363
Mantha Zarmakoupi
20. Romanization 381
Louise Revell
21. Streets and Facades 399
Ray Laurence
22. Vitruvius and his Influence 412
Ingrid D. Rowland
23. Ideological Applications: Roman Architecture and Fascist Romanità 426
Genevieve S. Gessert
24. Visualizing Architecture Then and Now: Mimesis and the Capitoline Temple of Jupiter Optimus Maximus 446
Melanie Grunow Sobocinski
25. Conservation 462
William Aylward
Glossary 480
References 501
Index 565
See More
Roger B. Ulrich is Ralph Butterfield Professor of Classics at Dartmouth College, where he teaches Roman Archaeology and Latin and directs Dartmouth's Rome Foreign Study Program in Italy. He is the author of The Roman Orator and the Sacred Stage: The Roman Templum Rostratum(1994) and Roman Woodworking (2007).
Caroline K. Quenemoen is Professor in the Practice and Director of Fellowships and Undergraduate Research at Rice University. Previously she taught courses in Greek and Roman art and archaeology at Rice. Her research focuses on Roman architecture, including articles on the House of Augustus.
See More
More in this series