Cannabis - Philosophy for Everyone: What Were We Just Talking About?
ISBN: 978-1-4051-9967-4
Paperback
264 pages
October 2010, Wiley-Blackwell
US $20.95

Add to Cart
This price is valid for United States. Change location to view local pricing and availability.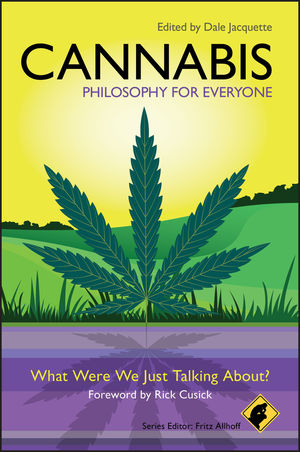 Other Available Formats:
E-book
Foreword (
Richard Cusick
).
Preface (Dale Jacquette).
Introduction: What is Cannabis and How Can We Get Some? (Dale Jacquette).
PART I CANNABIS PHENOMENOLOGY.
1 A Cannabis Odyssey (Lester Grinspoon).
2 Seeing Snakes: On Delusion, Knowledge, and the Drug Experience (G. T. Roche).
3 The Cannabis Experience: An Analysis of "Flow" (Andrew D. Hathaway and Justin Sharpley).
PART II MARIJUANA AND SPIRITUAL ENLIGHTENMENT.
4 Buzz, High, and Stoned: Metaphor, Meaning, and the Cannabis Experience (Michael Montagne).
5 The Great Escape (Charles Taliaferro and Michel Le Gall).
6 Cannabis and the Human Condition: "Something of the Kind is Indispensable"(Brian R. Clack).
PART III CREATIVELY HIGH.
7 Hallucinatory Terror: The World of the Hashish Eater (Tommi Kakko).
8 Marijuana and Creativity (Ryan E. Holt and James C. Kaufman).
9 Navigating Creative Inner Space on the Innocent Pleasures of Hashish (Dale Jacquette).
PART IV PSYCHO-SOCIOLOGICAL DIMENSIONS OF CANNABIS CULTURE.
10 Cannabis and the Culture of Alienation (Mark Thorsby).
11 Reefer Madness: Cannabis, the Individual, and Public Policy (Tuomas E. Tahko).
12 Soft vs. Hard: Why Drugs are Not Like Eggs (Brian Penrose).
PART V CANNABIS ETHICS AND POLITICS.
13 "Smoking Pot Doesn't Hurt Anyone But Me!" Why Adults Should be Allowed to Consume Cannabis (Jack Green Musselman, Russ Frohardt, and D. G. Lynch).
14 Pot Politics: Prohibition and Morality (Mitch Earleywine).
15 Cannabis and the Good Life: Needs, Capabilities, and Human Flourishing (Theodore Schick, Jr.)
16 Weakness of Will: The Cannabis Connection (Michael Funke).
Notes on Contributors.