E-book
Mobile Work, Mobile Lives: Cultural Accounts of Lived Experiences
ISBN: 978-1-4443-0967-6
200 pages
March 2009, Wiley-Blackwell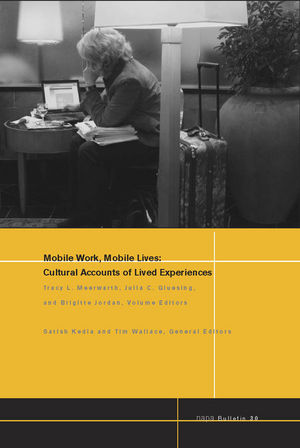 With the ever-increasing functionalities of information and communication technologies, as well as the spatial and temporal transformations brought about by shifts in global work patterns, mobile work has become more important than ever to workers and employers. The objective of this volume is to illustrate through narratives the patterns of mobility that are altering the meaning of work and how work is positioned with respect to the rest of life. The contributors to this volume are anthropologists who not only study remote, nomadic, and mobile workers but who are also remote, nomadic, and mobile themselves. They share observations about the evolution of their personal and professional identities, their attempts to define or merge boundaries between work and personal life, and their struggles to present the value of their work to others. Their descriptions of the tensions inherent in mobile life and work, and the strategies they employ to overcome them, greatly further our understanding of the interplay of self, work, place, and technology, and point to future research directions for the anthropology of work.
See More
Introduction: Tracking the Context of Mobile Lives (Tracy L. Meerwarth, Julia C. Gluesing, and Brigitte Jordan).
Community, Context, and the Presentation of Self in Distributed Workplace Interaction (Michael Youngblood).
Living a Distributed Life: Multilocality and Working at a Distance (Brigitte Jordan).
Occupational Websites as Locations for Remote and Mobile Worker Culture:An Examination of Temporary Worker Websites (Loril M. Gossett).
Identity in a Virtual World: The Coevolution of Technology, Work, and Lifecycle (Julia C. Gluesing).
 Remote or Mobile Work as an Occasion for (Re)Structuring Professional and Personal Identities (Perri Strawn).
Disentangling Patterns of a Nomadic Life (Tracy L. Meerwarth).
Located Mobility: Living and Working in Multiple Places (Amy Goldmacher).
Interruptions and Intertasking in Distributed Knowledge Work (Patricia G. Lange).
Conclusion: Patterns of Mobile Work and Life (Julia C. Gluesing, Tracy L. Meerwarth, and Brigitte Jordan).
Biosketches of Authors.
See More
Tracy L.Meerwarth
 has worked as an anthropologist and contract researcher at General Motors Research and Development (GM R and D) since 2001. She graduated with an M.A. in applied anthropology from Northern Arizona University with an emphasis in organizational anthropology. She and her team at GM R and D have published articles in scholarly journals such as Human Organization, Journal of Manufacturing Management, and Space and Culture. Meerwarth has presented at numerous annual conferences including the American Anthropological Association, Society for Applied Anthropology (SfAA), and the Ethnographic Praxis in Industry Conference (EPIC). She has applied her interest in cultural modeling, cognitive, and symbolic anthropology to various projects at GM, including collaboration, space, and architecture. In 2007, she and her team at GM R and D filed a patent entitled "System and Model for Performance Value Based Collaborative Relationships," and  received a U.S. Copyright Registration entitled "Collaboration Tools for Designing and Implementing an Ideal Manufacturing Culture in the U.S." Meerwarth is also a competitive golfer, yogi, and triathlete.
Julia Gluesing is a business and organizational anthropologist and research professor in industrial and manufacturing engineering at Wayne State University, specializing in global teaming and global product development. She is currently principal investigator of an NSF grant to study the diffusion of innovation across the global enterprise by tapping into an organization's information technology infrastructure. With more than 25 years of industry experience, Gluesing also frequently serves as a consultant and trainer to help business teams develop strategies and skills for working globally. She conducts research in global work practices and in cross-cultural and organizational communication for companies such as Ford Motor Company, Nissan Motor Corporation, Aegon, EDS Corporation, and Sun Microsystems. She has published professionally, most recently as a contributing author in Virtual Teams that Work: Creating Conditions for Virtual Team Effectiveness, Handbook of Managing Global Complexity, and Crossing Cultures: Lessons from Master Teachers. Gluesing received her M.A. (1985) from Michigan State University in organizational communication and her Ph.D. (1995) in cultural anthropology from Wayne State University.
Brigitte Jordan trained as a medical anthropologist (Ph.D., University of California, Irvine). Jordan has carried out ethnographic research for more than 30 years in academic and corporate settings, most recently as a principal scientist at Xerox PARC (now the Palo Alto Research Center). A freelance consultant, Jordan's research and consulting interests revolve around new "lifescapes" she sees emerging in a globalizing world under the impact of new communication and information technologies. Her special interests and expertise lie in the adaptation of ethnographic methods to physical, virtual, and hybrid ecologies. She is particularly concerned with the evolution and design of learning and knowledge ecologies that support productive work settings in the society of the future.
See More