E-book
Brook's Clinical Pediatric Endocrinology, 6th Edition
ISBN: 978-1-4443-1673-5
632 pages
September 2011, Wiley-Blackwell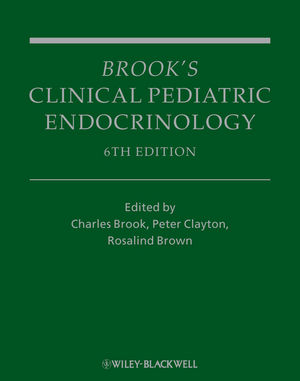 A benchmark reference textbook.
An exceptional editorial team and internationally renowned contributors come together to bring you Brook's Clinical Pediatric Endocrinology. This new book is full of practical advice and is essential reading for everyone involved in the care of children and adolescents with endocrine disease and disorders.
This outstanding reference book has been fully updated to feature new concepts, new investigations and new molecular mechanisms and is full of practical, clinical advice. The perfect text for pediatric endocrinologists, endocrinologists and pediatricians.
See More
1. Genetics and Genomics (
Peter A. Kopp
).
Principles of Hormone Action (Melissa Westwood).
3. Measuring Hormones, Molecular Tests and their Clinical Application (Jan M. Wit, Marcel Karperien & Bart E.P.B. Ballieux).
4. Congenital Disorders of the Hypothalamo-Pituitary-Somatotrope Axis (Ameeta Mehta, Evelien F. Gevers & Mehul T. Dattani).
5. Acquired Disorders of the Hypothalamo-Pituitary Axis (Kyriaki-Sandy Alatzoglou & Mehul T. Dattani).
6. Evaluation of Growth Disorders (Jerry K. Wales).
7. Management of Disordered Growth (Steven D. Chernausek).
8. Evaluation and Management of Late Effects of Cancer Treatment (Helena K. Gleeson & Stephen M. Shalet).
9. Evaluation and Management of Disorders of Sex Development (Ieuan A. Hughes).
10. Evaluation of Disordered Puberty (Mehul T. Dattani, Vaitsa Tziaferi & Peter C. Hindmarsh).
11. Management of Disordered Puberty (Jakub Mieszczak, Christopher P. Houk & Peter A. Lee).
12. The Thyroid (Rosalind S. Brown).
13. The Adrenal Cortex and its Disorders (Walter L. Miller).
14. Polyglandular Syndromes (Catherine J. Owen, Tim D. Cheetham & Simon H.S. Pearce).
15. Disorders of Water Balance (David R. Repaske).
16. The Parathyroid and Disorders of Calcium and Bone Metabolism (Jeremy Allgrove).
17. Endocrine Neoplasia in Childhood (Joanne C. Blair).
18. Diabetes Mellitus (Andrew W. Norris & Joseph I. Wolfsdorf).
19. Hypoglycemia: Assessment and Management (Andrew Cotterill, David Cowley & Ristan Greer).
20. Childhood Obesity (Michael Freemark).
21. Polycystic Ovarian Syndrome (M. Isabel Hernandez & Verónica Mericq).
22. Weight Regulation and Monogenic Obesity (I. Sadaf Farooqi).
23. Ethical Issues in Clinical Pediatric Endocrinology (Leena Patel & Peter E. Clayton).
Appendix: Syndrome-specific Growth Charts.
See More
Professor Charles Brook MA, MD, FRCP, FRCPCH, was the founder and first director of the London Centre for Paediatric Endocrinology at Great Ormond Street and The Middlesex Hospitals. His professorial chair of Paediatric Endocrinology at University College London was the first academic appointment in this subject in UK.
Professor Peter Clayton BSc, MD(Manchester), MRCP, FRCPCH, is Professor of Paediatric Endocrinology & Child Health at the Academic Unit of Child Health and Human Development and Reproductive Health Academic Group and consultant paediatric endocrinologist at Royal Manchester Childrens Hospital, UK


Professor Rosalind Brown, MD, received her bachelor's degree and medical degree from McGill University in Montreal, Quebec. She is an active staff member at Children's Hospital Boston in Massachusetts, and is a consulting staff member at MetroWest Medical Center. At Children's Hospital Boston, Dr. Brown is the director of Clinical Trial Research (Endocrinology), the coordinator of the Clinical Research Conference, Endocrine Division, the Children's Hospital Boston liaison for the Inter-Hospital Thyroid Conference, and serves as chair of the Career Development Workshop Subcommittee, Endocrine Division.
See More