The Wiley Blackwell Encyclopedia of Literature, Part One Set
ISBN: 978-1-4443-2088-6
4864 pages
January 2011, Wiley-Blackwell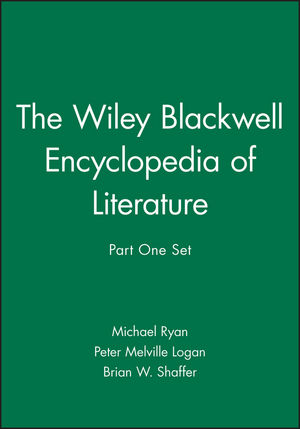 The Wiley-Blackwell Encyclopedia of Literature is a comprehensive new reference resource comprising individual titles covering key literary genres, periods, and sub-disciplines. This set includes
The Encyclopedia of Literary and Cultural Theory
, edited by Michael Ryan;
The Encyclopedia of the Novel
, edited by Peter Melville Logan; and
The Encyclopedia of Twentieth Century Fiction
, edited by Brian W. Shaffer at an extra 10% discount off the list prices.
The Encyclopedia of Twentieth Century Fiction is an indispensible guide to major writers and their key works; the genres and sub-genres of fiction in English across the twentieth century; and the major movements, debates, and rubrics within the field.
Contains over 500 entries of 1,000 to 3,000 words written in lucid, jargon-free prose, by an international cast of leading scholars
Arranged in 3 volumes covering World Fiction (edited by John Clement Ball), American Fiction (edited by Patrick O'Donnell, David Madden and Justus Nieland), and British and Irish Fiction (edited by Brian W. Shaffer).
The Encyclopedia of the Novel offers authoritative accounts of the history, terminology, genre and theory of the novel written by an international cast of leading scholars, and overseen by an Advisory Board of 37 specialists
Comprises nearly 150 accessibly written entries ranging from 500 to 7,000 words
Arranged in A-Z format across 2 fully indexed and meticulously cross-referenced volumes
The Encyclopedia of Literary and Cultural Theory is the first comprehensive multi-volume encyclopedia of literary and cultural theory. With explanations of complex terms and important theoretical concepts, and summaries of the work and ideas of key figures, it is a highly informative reference work for a multi-disciplinary readership.
Contains over 300 entries of 1000-5000 words
Arranged in three volumes covering Literary Theory from 1900 to 1966 (edited by Gregory Castle), Literary Theory from 1966 to the Present (edited by Robert Eaglestone), and Cultural Theory (edited by M. Keith Booker)
See More