E-book
Islam, Politics, Anthropology
ISBN: 978-1-4443-2441-9
256 pages
March 2010, Wiley-Blackwell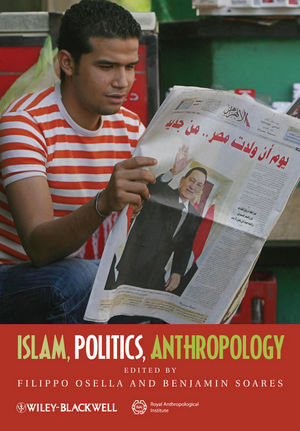 Part of The Journal of the Royal Anthropological Institute Special Issue Book Series,
Islam, Politics, Anthropology
offers critical reflections on past and current studies of Islam and politics in anthropology and charts new analytical approaches to examining Islam in the post-9/11 world. 
Challenges current and past approaches to the study of Islam and Muslim politics in anthropology
Offers a critical comprehensive review of past and current literature on the subject
Presents innovative ethnographic description and analysis of everyday Muslim politics in Asia, Africa, the Middle East, and North America
Proposes new analytical approaches to the study of Islam and Muslim politics
See More
Notes on contributors.
1 Benjamin Soares & Filippo Osella
Islam, politics, anthropology.
2 Samuli Schielke
Being good in Ramadan: ambivalence, fragmentation, and the moral self in the lives of young Egyptians.
3 Hatsuki Aishima & Armando Salvatore
Doubt, faith, and knowledge: the reconfi guration of the intellectual field in post-Nasserist Cairo.
4 Magnus Marsden
A tour not so grand: mobile Muslims in northern Pakistan.
5 Kai Kresse
Muslim politics in postcolonial Kenya: negotiating knowledge on the double-periphery.
6 Rosa De Jorio
Between dialogue and contestation: gender, Islam, and the challenges of a Malian public sphere.
7 Lara Deeb
Piety politics and the role of a transnational feminist analysis.
8 Julie McBrien
Mukadas's struggle: veils and modernity in Kyrgyzstan.
9 Irfan Ahmad
Genealogy of the Islamic state: reflections on Maududi's political thought and Islamism.
10 Maimuna Huq
Talking jihad and piety: reformist exertions among Islamist women in Bangladesh.
11 Daromir Rudnyckyj
Market Islam in Indonesia.
12 Filippo Osella & Caroline Osella
Muslim entrepreneurs in public life between India and the Gulf: making good and doing good.
13 Gregory Starrett
Islam and the politics of enchantment.
Index.
See More
Filippo Osella
is a Reader in Anthropology at the University of Sussex, UK. For the past 20 years, Osella has conducted research in South India, and more recently in a number of West Asian Gulf countries. His current research focuses on the emergence of Islamic reformist movements and the rise of a new Muslim middle class in Kerala.
Benjamin Soares is an anthropologist and Senior Research Fellow at the Afrika-Studiecentrum in Leiden, The Netherlands. Soares' publications include Islam and the Prayer Economy (2005) and two edited volumes, Islam and Muslim Politics in Africa (2007) and Muslim-Christian Encounters in Africa (2006).
See More
More in this series