The Wiley Blackwell Encyclopedia of Health, Illness, Behavior and Society
ISBN: 978-1-4443-3076-2
2696 pages
March 2014, Wiley-Blackwell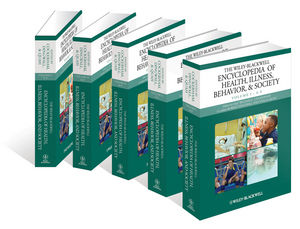 Offering more than 700 entries across 20 sub-disciplines, this encyclopedia represents the first comprehensive, interdisciplinary, and international reference work on all aspects of the social scientific study of health and illness.
Represents the most authoritative resource covering concepts, theories, and substantive topics relating to the study of health in our globalized, 21st-century world
Brings together an experienced author team from across America, Asia, and Europe, who represent a variety of health-related disciplines
Accessibly structured A to Z entries also benefit from brief bibliographies and cross-references for enhanced clarity
Offers a definitive representation of each topic, combining different areas of the social scientific study of health in a way that reflects and promotes the interdisciplinary development of health research
Published simultaneously as a five-volume set and as an online reference work at www.healthandsocietyencyclopedia.com
See More
William C. Cockerham is Distinguished Professor and Chair of Sociology at the University of Alabama at Birmingham. His publications include Social Causes of Health and Disease, Second Edition (2013), Medical Sociology, 12th edition (2012), and The New Blackwell Companion to the Sociology of Medicine (Wiley-Blackwell, 2010). 
Robert Dingwall is a consulting sociologist and part-time Professor at Nottingham Trent University. He has published widely on research in medicine, law, and science and technology and is a former editor ofSociology of Health and Illness.

Stella Quah is Adjunct Professor of Sociology at the Duke-NUS Graduate Medical School. She is author and editor of several books including Crisis Preparedness: Asia and the Global Governance of Epidemics (2007), Families in Asia: Home and Kin (2009), and International Encyclopedia of Public Health (co-edited with Harald Kristian Heggenhougen, 2008).
See More
"All the essays are clearly written, and should be comprehensible by the average social sciences undergraduate. The editing, binding and presentation are excellent. All libraries catering for academic courses in the social sciences would benefit from having a copy." (Reference Reviews, 1 December 2014
"The focus on relating social and behavioral factors to a variety of health issues distinguishes this work from other encyclopedias. This distinctive work offers a global perspective beneficial to students and professionals in social and behavioral sciences, medicine, public health, nursing, and other health-related fields. Summing Up: Recommended. Lower-level undergraduates and above; general readers." (Choice, 1 September 2014)
"The relationship between health and social and environmental factors is well documented, and this new encyclopedia explores the issue in depth. . . The writing style and reading levels are clearly aimed at academics, but undergraduate students and interested members of the general public will also gain knowledge from this encyclopedia. Academic libraries supporting programs in the health and social sciences will find this set particularly useful since there is little else that looks at health in this manner." (Booklist, 15 April 2014)
See More
More in this series