Textbook
Developmental Cognitive Neuroscience, 3rd Edition
ISBN: 978-1-4443-3086-1
308 pages
September 2010, ©2010, Wiley-Blackwell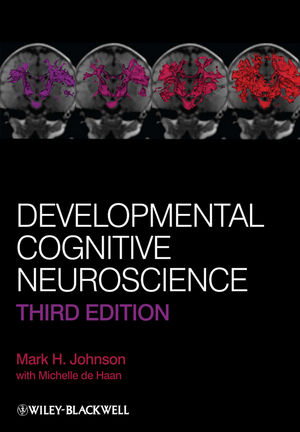 The third edition of
Developmental Cognitive Neuroscience
presents a thorough updating and enhancement of the classic text that introduced the rapidly expanding field of developmental cognitive neuroscience.
Includes the addition of two new chapters that provide further introductory material on new methodologies and the application of genetic methods in cognitive development
Includes several key discussion points at the end of each chapter
Features a greater focus on mid-childhood and adolescence, to complement the previous edition?s emphasis on early childhood
Brings the science closer to real-world applications via a greater focus on fieldwork
Includes a greater emphasis on structural and functional brain imaging
See More
List of Figures.
List of Tables.
Preface to the Third Edition.
Preface to the Second Edition.
Preface to the First Edition.
Acknowledgments.
Abbreviations.
1 The Biology of Change.
2 Methods and Populations.
3 From Gene to Brain.
4 Building a Brain.
5 Vision, Orienting, and Attention.
6 Perceiving and Acting on the Physical World: Objects and Number.
7 Perceiving and Acting on the Social World.
8 Learning and Long-Term Memory.
9 Language.
10 Prefrontal Cortex, Working Memory, and Decision-Making.
11 Cerebral Lateralization.
12 Interactive Specialization.
13 Toward an Integrated Developmental Cognitive Neuroscience.
References.
Index.
See More
Mark H. Johnson
is Professor of Psychology, MRC Scientific Team Leader, and Director of the Centre for Brain and Cognitive Development at Birkbeck College, University of London. He is an editor of the Wiley-Blackwell journal
Developmental Science,
and is considered to be among the worldâ??s leading scholars in human brain development.
Michelle de Haan is Reader in Developmental Cognitive Neuroscience in the Institute of Child Health at University College London, and Honorary Principal Neuropsychologist for Great Ormond Street Hospital for Children NHS Trust. Her research applies neuroimaging and neuropsychological methods to understand typical and atypical cognitive and social development.
See More
Includes the addition of two new chapters that provide further introductory material on new methodologies and the application of genetic methods in cognitive development

Features a greater focus on mid-childhood and adolescence, to complement the previous edition's emphasis on early childhood

Includes a greater emphasis on structural and functional brain imaging
See More
Includes the addition of two new chapters that provide further introductory material on new methodologies and the application of genetic methods in cognitive development
Includes several key discussion points at the end of each chapter
Features a greater focus on mid-childhood and adolescence, to complement the previous edition's emphasis on early childhood
Brings the science closer to real-world applications via a greater focus on fieldwork
Includes a greater emphasis on structural and functional brain imaging
See More
"The third edition of Developmental Cognitive Neuroscience presents a thorough updating and enhancement of the classic text that introduced the rapidly expanding field of developmental cognitive neuroscience." (Breitbart.com: Business Wire, 22 February 2011) '
Developmental Cognitive Neuroscience
has become the best advanced undergraduate textbook that lays out the agenda and approach to this rapidly expanding field. In this updated third edition, I particularly like the emphasis on reconciling brain-based research with pure behavioural approaches and why students must appreciate the contribution of neuroscience to building better models of cognitive development.'
—
Professor Bruce Hood, University of Bristol, UK

'The way in which genes and environment shape brain networks underlying human behavior is now among the most active issues in science. This new edition of Developmental Cognitive Neuroscience provides a comprehensive approach to theory, data and application to this issue and others within the perspectives of Cognitive and Social Neuroscience.'
—Michael I. Posner, Professor Emeritus, University of Oregon, US
'This book, which launched the field of developmental cognitive neuroscience 13 years ago, shows no sign of aging.  This up-to-date and newly revised volume eloquently captures the key domains of the discipline and will prove essential reading to both students and established scientists alike.  Well-written and well-researched, this revised edition will serve as both a resource and inspiration for anyone interested in the intersection of brain and cognitive development.'
—Professor Charles A. Nelson III, Harvard University Medical School and Children's Hospital Boston, US
See More