The State Trial of Doctor Henry Sacheverell
ISBN: 978-1-4443-3223-0
322 pages
November 2012, Wiley-Blackwell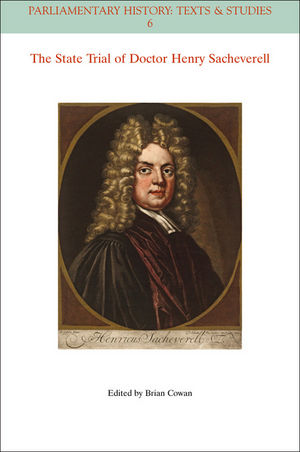 This work offers a critical edition of original texts and documents necessary for understanding the trial's significance. By consolidating all accounts of the trial, scholars are able to consult and compare these accounts in a readily accessible volume.
Presents critical editions of several manuscripts relating to this celebrated 'state trial'
Demonstrates that the often cited and printed account of the trial by Jacob Tonson was incomplete and often regarded by contemporaries as a partisan production
Extensively illustrated with rare prints and drawings - most existing in only one copy and never before reproduced
Documents the intense interest of contemporary readers in the meaning of the trial and presents transcripts and illustrations of their annotations
Allow scholars to consult and compare the varying accounts of the trial in a readily accessible volume
See More
Table of Figures
Acknowledgments
Note on Style and Conventions
Abbreviations/Contractions
Chapter 1. Introduction: Reading the Trial of Dr Sacheverell
Chapter 2. A Brief Chronology of the Sacheverell Controversies
Chapter 3. The Osborn 'Account': Beinecke Library, MS S 13043
Chapter 4. 'Proceedings in Parliament against Dr Henry Sacheverell': Beinecke Osborn MS C171
Chapter 5. The Huntington Tryal Annotations

Chapter 6. Annotations to an Impartial Account
Chapter 7. Sacheverell's Speech Relating to the Tumults
Chapter 8. Resistance or Non-resistance
Chapter 9. Description of the High Court of Judicature
Chapter 10. Plan of the Scaffold
Chapter 11. The Case of Henry Sacheverell
Chapter 12. The Life, Character and Pious Deportment of Henry Sacheverell
Chapter 13. An Alphabetical List
Chapter 14. Debates in the House of Lords on Sacheverell's Impeachment
Chapter 15. Robert Walpole's Manuscripts Relating to the Trial
Chapter 16. Materials Relating to the Earl of Nottingham's Contributions to the Trial
Chapter 17. Ralph Bridges' Correspondence with Sir William Trumbull Relating to Sacheverell
Chapter 18. Major Figures Mentioned in the Text
Index
See More
Brian Cowan holds the Canada Research Chair in Early Modern British History at McGill University in Montreal. He has written extensively on the history of the public sphere in early modern Britain, including his prize-winning monograph, The Social Life of Coffee: The Emergence of the British Coffeehouse (2005).  He edits the Journal of the British of Studies, with his colleague Elizabeth Elbourne, for the North American Conference on British Studies. This volume is the first publication resulting from his continuing research on the media politics surrounding the 1710 trial of Doctor Henry Sacheverell.
See More
More in this series