Textbook
Intercultural Communication for Everyday Life
ISBN: 978-1-4443-3236-0
370 pages
February 2014, ©2014, Wiley-Blackwell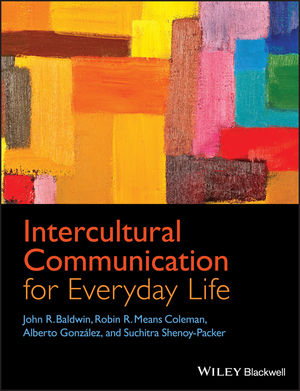 Written for students studying intercultural communication for the first time, this textbook gives a thorough introduction to inter- and cross-cultural concepts with a focus on practical application and social action.
Provides a thorough introduction to inter- and cross-cultural concepts for beginning students with a focus on practical application and social action
Defines "communication" broadly using authors from a variety of sub disciplines and incorporating scientific, humanistic, and critical theory
Constructs a complex version of culture using examples from around the world that represent a variety of differences, including age, sex, race, religion, and sexual orientation
Promotes civic engagement with cues toward individual intercultural effectiveness and giving back to the community in socially relevant ways
Weaves pedagogy throughout the text with student-centered examples, text boxes, applications, critical thinking questions, a glossary of key terms, and online resources for students and instructors
Online resources for students and instructors available upon publication at www.wiley.com/go/baldwin
See More
Preface xi
Acknowledgements xv
About the website xvi
Walk through xvii
Part one Foundations 1
1 A rationale for studying intercultural communication Why should we know about other cultures? 3
2 Action, ethics, and research
How can I make a difference? 24
3 Origins
Where does our "culture" come from? 47
Part two Elements 69
4 Subjective culture
What is the base upon which cultural communication is built? 71
5 Identity: Struggle, resistance, and solidarity
How can I think about my identity and that of others? 91
6 Intolerance–acceptance–appreciation
How can we make the world a more tolerant place? 114
Part three Messages 135
7 Verbal communication
How can I reduce cultural misunderstandings in my verbal communication? 137
8 Nonverbal communication
Can I make nonverbal blunders and not even know it? 159
9 Rhetoric and culture
How does my culture relate to persuasive writing and speaking? 180
10 Culture, communication, and media
How do media shape our views of others? 203
Part four Contexts 225
11 Global media, global cultures
How do culture and globalization influence each other? 227
12 Adaptation and intercultural competence
How can I be effective in a new culture? 249
13 Relationships and conflict
How can I have better cross-cultural relationships? 269
14 The political context
How can we use communication to shape politics and culture? 290
15 Intercultural communication in international organizational contexts
How does culture shape business, and how is business culture changing? 306
Conclusion 329
Glossary 331
Index 343
See More
John R. Baldwin is Professor of Communication at Illinois State University.

Robin R. Means Coleman is Associate Professor in the Departments of Communication Studies and Afroamerican and African Studies at the University of Michigan. 

Alberto González is Professor of Communication at Bowling Green State University.

Suchitra Shenoy-Packer is Assistant Professor of Communication Studies at DePaul University.
See More
"The combination has the advantage bringing into one's hand a somewhat integrated presentation, guidance and a direction without the leakage and serendipity of online meanderings."  (Diversophy.com, 1 November 2014)
"This broad introduction to intercultural communication, uncommon for its inclusion of ethics, civic engagement, and global media, also integrates popular culture examples likely to appeal to students." — Wendy Leeds-Hurwitz, Villanova University, USA

"Well written, lively, and practical, Intercultural Communication for Everyday Life is the first intercultural communication textbook to challenge students to think critically about civic and political engagement in intercultural contexts.  Bravo!" — Robert Shuter, Diederich College of Communication, Marquette University, USA

"Baldwin, Means Coleman, González, and Shenoy-Packer have written an intercultural communication text that starts with a rich conceptualization of culture while, at the same time, focusing students on basic concepts, key terms and frameworks in a rigorous but approachable style. Avoiding the "binary" contrasts that characterize so many books, the authors provide examples from around the world so students learn about cultures rather than about US culture compared to "the others." In addition, the book has a number of other exciting features, including social scientific and interpretive/critical approaches, a fuller discussion of ethics and globalization, and a community engagement focus that invites students to understand and critique materials and then explore how they can be applied in communities. This book will engage and challenge your students and, as well, you as a teacher to explore the complex and shifting world of culture in order to reach new understandings and develop new practices." — Michael Hecht, The Pennsylvania State University, USA
See More
Instructors Resources
Digital evaluation copy available for this title
Request Copy

Contact your Wiley Representative
Find Your Rep

See More
See Less