Vegetable Oils in Food Technology: Composition, Properties and Uses, 2nd Edition
ISBN: 978-1-4443-3268-1
376 pages
April 2011, Wiley-Blackwell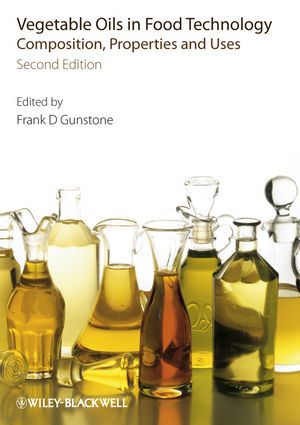 Our dietary intake comprises three macronutrients (protein, carbohydrate and lipid) and a large but unknown number of micronutrients (vitamins, minerals, antioxidants, etc). Good health rests, in part, on an adequate and balanced supply of these components. This book is concerned with the major sources of lipids and the micronutrients that they contain.
Now in an extensively updated second edition, the volume provides a source of concentrated and accessible information on the composition, properties and food applications of the vegetable oils commonly used in the food industry. Chapters are devoted to each type of oil, and an introductory chapter by the Editor provides an overview of the current production and trade picture globally. The book includes coverage of the modifications of these oils that are commercially available by means of partial hydrogenation, fractionation and seed breeding. The major food applications are linked, wherever possible, to the composition and properties of the oils.
This new edition widens the range of oils covered, addresses issues related to trans fats reduction, and new composition data is included throughout. The book is an essential resource for food scientists and technologists who use vegetable oils in food processing; chemists and technologists working in oils and fats processing; and analytical chemists and quality assurance personnel.
Praise for the first edition:
"This excellent book consists of 337 pages in 11 chapters, written by 13 experts from six countries...the important vegetable oils are dealt with in great detail. With obesity on all out lips...this book also rightly defends itself and its content - namely, that all vegetable oils, when used correctly and of course in moderation, are indeed necessary to all of us."
–Food & Beverage Reporter
"Overall, the book covers all of the major oils which the potential reader is likely to approach it for... covers a wide range of topics from production, through composition to nutritional aspects... The volume is well indexed, particularly for the individual subject oils, and it is easy to find specific topics within its chapters."
–Food Science and Technology
"This latest book edited by Professor Gunstone belongs to the kind of books where the reader rapidly knows it will bring him a wealth of updated information concentrated in one book. The goal to 'serve as a rich source of data' on the thirteen major oils and their important minor components has been attained. There is a need for books of such quality."
–European Journal of Lipid Science and Technology
See More
Preface to the First Edition.
Preface to the Second Edition.
Contributors.
List of Abbreviations.
1 Production and Trade of Vegetable Oils (Frank D. Gunstone).
1.1 Extraction, refining and processing.
1.2 Vegetable oils: Production, consumption and trade.
1.3 Some topical issues.
2 Palm Oil (Siew Wai Lin).
2.1 Introduction.
2.2 Composition and properties of palm oil and fractions.
2.3 Physical characteristics of palm oil products.
2.4 Minor components of palm oil products.
2.5 Food applications of palm oil products.
2.5.1 Cooking/frying oil.
2.6 Nutritional aspects of palm oil.
2.7 Sustainable palm oil.
2.8 Conclusions.
3 Soybean Oil (Tong Wang).
3.1 Introduction.
3.2 Composition of soybean and soybean oil.
3.3 Recovery and refining of soybean oil.
3.4 Oil composition modification by processing and biotechnology.
3.5 Physical properties of soybean oil.
3.6 Oxidation evaluation of soybean oil.
3.7 Nutritional properties of soybean oil.
3.8 Food uses of soybean oil.
4 Canola/Rapeseed Oil (Roman Przybylski).
4.1 Introduction.
4.2 Composition.
4.3 Physical and chemical properties.
4.4 Major food uses.
4.5 Conclusion and outlook.
5 Sunflower Oil (Maria A. Grompone).
5.1 Introduction.
5.2 Sunflower oil from different types of seed.
5.3 Physical and chemical properties.
5.4 Melting properties and thermal behaviour.
5.5 Extraction and processing of sunflower oil.
5.6 Modified properties of sunflower oil.
5.7 Oxidative stability of commercial sunflower oils.
5.8 Food uses of different sunflower oil types.
5.9 Frying use of commercial sunflower oil types.
6 The Lauric (Coconut and Palm Kernel) Oils (Ibrahim Nuzul Amri).
6.1 Introduction.
6.2 Coconut oil.
6.3 Palm kernel oil.
6.4 Processing.
6.5 Food uses.
6.6 Health aspects.
7 Cottonseed Oil (Michael K. Dowd).
7.1 Introduction.
7.2 History.
7.3 Seed composition.
7.4 Oil composition.
7.5 Chemical and physical properties of cottonseed oil.
7.6 Processing.
7.7 Cottonseed oil uses.
7.8 Co-product uses.
8 Groundnut (Peanut) Oil (Lisa L. Dean, Jack P. Davis, and Timothy H. Sanders).
8.1 Peanut production, history, and oil extraction.
8.2 Oil uses.
8.3 Composition of groundnut oil.
8.4 Chemical and physical characteristics of groundnut oil.
8.5 Health issues.
9 Olive Oil (Dimitrios Boskou).
9.1 Introduction.
9.2 Extraction of olive oil from olives.
9.3 Olive oil composition.
9.4 Effect of processing olives on the composition of virgin olive oils.
9.5 Refining and modification.
9.6 Hardening and interesterification.
9.7 Quality, genuineness and regulations.
9.8 Consumption and culinary applications.
10 Corn Oil (Robert A. Moreau).
10.1 Composition of corn oil.
10.2 Properties of corn oil.
10.3 Major food uses of corn oil.
10.4 Conclusions.
11 Minor and Speciality Oils (S. Prakash Kochhar).
11.1 Introduction.
11.2 Sesame seed oil.
11.3 Rice bran oil.
11.4 Flaxseed (linseed and linola) oil.
11.5 Safflower oil.
11.6 Argan kernel oil.
11.7 Avocado oil.
11.8 Camelina seed oil.
11.9 Grape seed oil.
11.10 Pumpkin seed oil.
11.11 Sea buckthorn oil.
11.12 Cocoa butter and CBE.
11.13 Oils containing a-linolenic acid (GLA) and stearidonic acid (SDA).
11.14 Tree nut oils.
Useful Websites.
Index.
See More
Frank D. Gunstone is Professor Emeritus, University of St Andrews and Honorary Research Professor, Scottish Crop Research Institute, Dundee, UK.
See More