Philosophy of the Yi: Unity and Dialectics
ISBN: 978-1-4443-3411-1
200 pages
January 2010, Wiley-Blackwell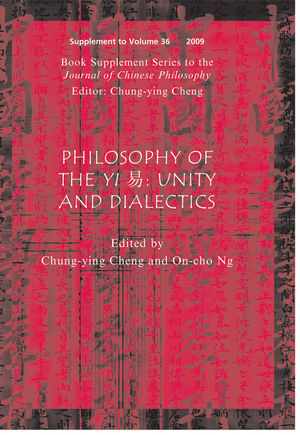 This volume, an assemblage of essays previously published in the
Journal of Chinese Philosophy
, conveniently and strategically brings together some of the trenchant interpretations and analyses of the salient, structural aspects of the philosophy of the
Yijing
.
Key essays published in the Journal of Chinese Philosophy brought together in a single volume
The book offers incisive interpretations and analysis of the most significant aspects of the philosophy of Yi
Provides insights into the ways in which the natural and human worlds work in conjunction with one another
See More
Preface (
Chung-Ying Cheng
).
Introduction: Rehearsing the Old and Anticipating the New (On-Cho Ng).
On Harmony as Transformation: Paradigms from the Yijing (Chung-Ying Cheng).
A Set Theory Analysis of the Logic of the Yijing (Jesse Fleming).
The Structure of Change in the Yijing (Peter D. Hershock).
Li and Qi in the Yijing: A Reconsideration of Being and Nonbeing in Chinese Philosophy (Chung-Ying Cheng).
The Yijing and the Formation of the Huayan Philosophy: An Analysis of a Key Aspect of Chinese Buddhism (Whalen Lai).
Time as Emotion versus Time as Moralization: Whitehead and the Yi Jing (Linyu Gu).
Flowers and Steps in the Boolean Lattice of Hexagrams (Andreas Schöter).
Select Bibliography of Works on the Yijing since 1985 (Richard J. Smith).
See More