World Fisheries: A Social-Ecological Analysis
ISBN: 978-1-4443-3467-8
440 pages
March 2011, Wiley-Blackwell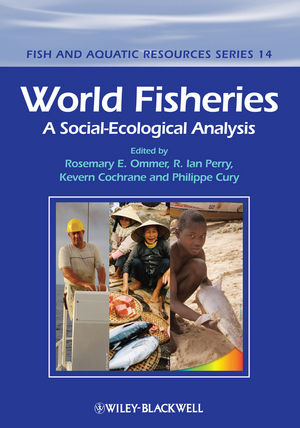 This exciting new book grew out of an international symposium held at FAO, Rome in July 2008, but it is not just a collection of papers from that symposium. Rather, the publication brings together work on social-ecological marine research that cuts across disciplines, identifies key common elements and approaches that promote resilience of marine social-ecological systems in the face of global changes, and points to next steps.
The book comprises contributions on conceptual issues relating to social-ecological responses in marine systems to global changes; offers illustrative case studies of specific examples of social-ecological responses in marine systems to significant environmental changes manifested locally; develops a syntheses between natural and social scientists on the topic, and points the way forward with innovative approaches to the use of science and knowledge in management, policy and advice.
World Fisheries is part of Wiley-Blackwell's prestigious Fish and Aquatic Resources Series, and encompasses chapters from many scientists at the top of their fields worldwide. Carefully drawn together and edited by four world experts in the area, World Fisheries is a landmark publication which is an essential purchase for all fisheries managers worldwide.
See More
List of Contributors.
Series Foreword.
Acknowledgements.
Part I Social-Ecological Systems in Fisheries.
1 Introduction (Rosemary E. Ommer and R. Ian Perry).
Reference.
2 Restoring Unity: The Concept of Marine Social-Ecological Systems (Fikret Berkes).
Part II Modeling.
3 Predicting the Impacts and Socio-Economic Consequences of Climate Change on Global Marine Ecosystems and Fisheries: The QUEST_Fish Framework (Manuel Barange, Icarus Allen, Eddie Allison, Marie-Caroline Badjeck, Julia Blanchard, Benjamin Drakeford, Nicholas K. Dulvy, James Harle, Robert Holmes, Jason Holt, Simon Jennings, Jason Lowe, Gorka Merino, Christian Mullon, Graham Pilling, Lynda Rodwell, Emma Tompkins, and Francisco Werner).
4 Fleets, Sites, and Conservation Goals: Game Theoretic Insights on Management Options for Multinational Tuna Fisheries (Kathleen Miller, Peter Golubtsov, and Robert McKelvey).
5 Fishing the Food Web: Integrated Analysis of Changes and Drivers of Change in Fisheries of the Bay of Biscay (Olivier Thébaud and Fabian Blanchard).
6 Interdisciplinary Modeling for an Ecosystem Approach to Management in Marine Social-Ecological Systems (Anthony M. Starfield and Astrid Jarre).
7 People's Seas: "Ethno-oceanography" as an Interdisciplinary Means to Approach Marine Ecosystem Change (Maria A. Gasalla and Antonio C. S. Diegues).
Part III Knowledge.
8 The Utility of Economic Indicators to Promote Policy-Relevant Science for Climate Change Decisions (Judith Kildow).
9 Scientific Advice for Fisheries Management in West Africa in the Context of Global Change (Bora Masumbuko, Moctar Bâ, P. Morand, P. Chavance, and Pierre Failler).
10 Knowledge and Research on Chilean Fisheries Resources: Diagnosis and Recommendations for Sustainable Development (Eleuterio Yáñez, Exequiel González, Luis Cubillos, Samuel Hormazábal, Héctor Trujillo, Lorena Álvarez, Alejandra Órdenes, Milton Pedraza, and Gustavo Aedo).
11 Moving Forward: Social-Ecological Interactivity, Global Marine Change and Knowledge for the Future (Barbara Neis).
Part IV Values.
12 Unaccounted Values: Under-reporting Sardine Catches as a Strategy Against Poverty in the Bali Strait, Indonesia (Eny Anggraini Buchary, Tony J. Pitcher, and Ussif Rashid Sumaila).
13 "You Don't Know What You've Got 'Til It's Gone": The Case for Spiritual Values in Marine Ecosystem Management (Nigel Haggan).
14 Social-Ecological Restructuring and Implications for Social Values (Grant Murray).
15 Economic Valuation of Mangroves in the Niger Delta: An Interdisciplinary Approach (Godstime K. James, Jimmy O. Adegoke, Ekechukwu Saba, Peter Nwilo, Joseph Akinyede, and Sylvester Osagie).
16 US Marine Ecosystem Habitat Values (Ussif Rashid Sumaila, Jackie Alder, G. Ishimura, William. W. L. Cheung, L. Dropkin, S. Hopkins, S. Sullivan, and A. Kitchingman).
Part V Governance.
17 Historical Transitions in Access to and Management of Alaska's Commercial Fisheries, 1880–1980 (Emilie Springer).
18 Can Fishers' Virtuous Behavior Improve Large Marine Ecosystem Health? (Valentina Giannini).
19 Ecosystem-based Management in the Asia-Pacific Region (Mitsutaku Makino and Hiroyuki Matsuda).
20 A Network Approach to Understanding Coastal Management and Governance of Small-scale Fisheries in the Eastern Caribbean (Kemraj Parsram and Patrick McConney).
21 Uncertainty Demands an Adaptive Management Approach to the Use of Marine Protected Areas as Management Tools (Michel J. Kaiser).
22 Building Resilience to Climatic and Global Change in High-Latitude Fishing Communities: Three Case Studies from Iceland and Alaska (James R. McGoodwin).
23 Coping with Environmental Change: Systemic Responses and the Roles of Property and Community in Three Fisheries (Bonnie J. McCay, Wendy Weisman, and Carolyn Creed).
Part VI Conclusions.
24 Conclusion: Hierarchy, Power, and Potential Regime Shifts in Marine Social-Ecological Systems (Rosemary E. Ommer and R. Ian Perry).
References.
Index.
A color plate section.
See More
Rosemary E. Ommer
, Department of History, University of Victoria, Canada
R. Ian Perry, Fisheries and Oceans Canada, Pacific Biological Station, Nanaimo, Canada
Kevern Cochrane, United Nations Food and Agriculture Organisation, Viale delle Terme di Caracalla, Rome, Italy
Philippe Cury, Institut de Recherche pour le Développement, Centre de Recherche Halieutique Méditerranéenne et Tropicale, IRD – IFREMER & Université Montpellier II, France
See More
More in this series