A Handbook of Romanticism Studies
ISBN: 978-1-4443-3496-8
434 pages
April 2012, Wiley-Blackwell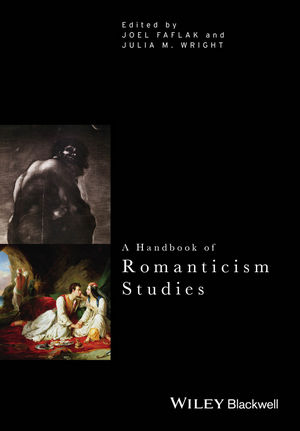 The Handbook to Romanticism Studies
is an accessible and indispensible resource providing students and scholars with a rich array of historical and up-to-date critical and theoretical contexts for the study of Romanticism.
Focuses on British Romanticism while also addressing continental and transatlantic Romanticism and earlier periods
Utilizes keywords such as imagination, sublime, poetics, philosophy, race, historiography, and visual culture as points of access to the study of Romanticism and the theoretical concerns and the culture of the period
Explores topics central to Romanticism studies and the critical trends of the last thirty years
See More
Acknowledgments vii
Notes on Contributors ix
Introduction 1
Joel Faflak and Julia M. Wright
Part 1: Aesthetics and Media 17
1 Imagination 19
Richard C. Sha
2 Sensibility 37
Julie Ellison
3 Sublime 55
Anne Janowitz
4 Periodicals 69
Kristin Flieger Samuelian and Mark Schoenfield
5 Visual Culture 87
Sophie Thomas
Part 2: Theories of Literature 105
6 Author 107
Elizabeth A. Fay
7 Reader 125
Stephen C. Behrendt
8 Poetics 143
Jacqueline Labbe
9 Narrative 159
Jillian Heydt-Stevenson
10 Drama 177
David Worrall
11 Gothic 195
Jerrold E. Hogle
12 Satire 213
Steven E. Jones
Part 3: Ideologies and Institutions 225
13 Historiography 227
Ted Underwood
14 Ideology 245
Orrin N. C. Wang
15 Nation and Empire 259
Julia M. Wright
16 Class 277
Michael Scrivener
17 Race 289
Peter J. Kitson
18 Gender and Sexuality 307
Kari Lokke
Part 4: Disciplinary Intersections 325
19 Philosophy 327
Marc Redfield
20 Religion 339
Michael Tomko
21 Science 357
Theresa M. Kelley
22 Medicine 375
James Robert Allard
23 Psychology 391
Joel Faflak
Index 409
See More
Joel Faflak is Associate Professor of English and Theory at the University of Western Ontario. He is author of Romantic Psychoanalysis: The Burden of the Mystery (2007), co-author of Revelation and Knowledge (2011) and editor of Sanity, Madness, Transformation: The Psyche of Romanticism (2005).
Julia M. Wright is Canada Research Chair in European Studies at Dalhousie University.  She is the author of Blake, Nationalism and the Politics of Alienation (2004) and Ireland, India, and Nationalism in Nineteenth-Century Literature (2007) and the editor of Irish Literature 1750-1900: An Anthology (Wiley-Blackwell, 2008) and the 2volume A Companion to Irish Literature (Wiley-Blackwell, 2010).
See More
More in this series