The Encyclopedia of Postcolonial Studies
ISBN: 978-1-4443-3498-2
1728 pages
February 2016, Wiley-Blackwell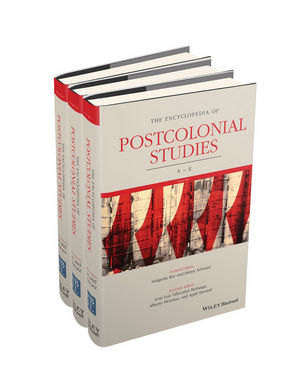 The Encyclopedia of Postcolonial Studies brings together the most wide-ranging and up-to-date scholarship ever assembled on the colonial, postcolonial and neo-colonial condition, covering the period from 1492 to the present.
The first and only reference of its kind that treats colonial processes as global and millennial

Close to 400 entries offer unprecedented coverage, exploring the dynamics of European conquest from Columbus to China, and critiques of colonialism from Las Casas to Gayatri Spivak

Written by an international cast of leading scholars

An essential reference for scholars in a broad range of fields, including world literature, anthropology, political science, sociology, gender, feminist and queer studies, history and history of science
4 Volumes
See More
Volume I
Alphabetical list of Entries
Thematic List of Entries
Associate Editors
List of Contributors
Introduction
Sangeeta Ray
Introduction
Henry Schwarz
Postcolonial Studies A-G [tbc]
Volume II
Poscolonial Studies H-R [tbc]
Volume III
Postcolonial Studies S-Z [tbc]
Index
See More
Sangeeta Ray is Professor of English and Comparative Literature at the University of Maryland.She is author of Engendering India: Woman and Nation in Colonial and Postcolonial Narratives (2000), Gayatri Chakravorty Spivak: In Other Words (Wiley Blackwell 2009), and of the forthcoming Postcolonial Reading: Aesthetics, Ethics, Politics. She is also co-editor, with Henry Schwarz, of A Companion to Postcolonial Studies (Wiley Blackwell 2000). She serves on several editorial boards of key journals, and her areas of specialization include postcolonial studies, ethnic and transnational studies, world literature, and environmental humanities.
Henry Schwarz is Professor of English at Georgetown University, where he was Director of the Program on Justice and Peace from 1999 to 2007. His books include Writing Cultural History in Colonial and Postcolonial India (1997), Constructing the Criminal Tribe in Colonial India: Acting Like a Thief (Wiley Blackwell 2010), Reading the Shape of the World: Toward an International Cultural Studies (co-edited with Richard Dienst, 1996), and A Companion to Postcolonial Studies (with Sangeeta Ray, Wiley Blackwell 2000). He has produced four documentary films on underclass culture in India. His areas of specialization include literary theory, cultural studies, South Asia regional studies, and comparative literature. Current research and writing bring him increasingly closer to human rights, indigenous people, and creative practices of social change.
See More