Toleration, Respect and Recognition in Education
ISBN: 978-1-4443-3596-5
152 pages
October 2010, Wiley-Blackwell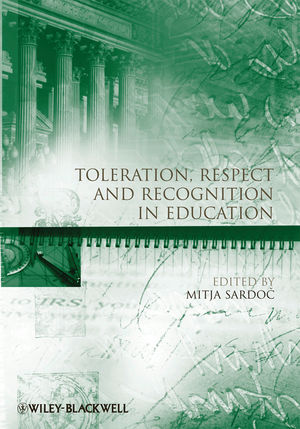 Toleration, Respect and Recognition in Education
brings together a collection of papers examining the complexity of different interpretations of toleration, respect and recognition in education.
Discusses different theories of toleration and shows how it lies at the centre of a liberal pluralistic society
Brings together the work of leading scholars from a range of disciplines
Examines how education can accommodate diversity and promote shared public values
See More
Notes on Contributors
1. Toleration, Respect and Recognition: Some tensions (Mitja Sardoc, Educational Research Institute in Ljubljana)
2. Toleration, Children and Education (Colin Macleod, University of Victoria)
3. Recognition and Toleration: Conflicting approaches to diversity in education? (Sune Lægaard, University of Roskilde)
4. Toleration and Recognition: What should we teach? (Peter Nigel Jones, University of Newcastle)
5. Cultural Diversity and Civic Education: Two versions of the fragmentation objection (Andrew Shorten, University of Limerick)
6. Heteronomous Citizenship: Civic virtue and the chains of autonomy (Lucas Swaine, Dartmouth College)
7. Civic Respect, Civic Education, and the Family (Blain Neufeld, University of Wisconsin and Gordon Davis, Carleton University)
8. Mutual Respect and Civic Education (Colin Bird, University of Virginia)
9. Avoiding an Intolerant Society: Why respect of difference may not be the best approach (Peter A. Balint, University of New South Wales)
Index
See More
Mitja Sardoč is a researcher at the Educational Research Institute in Ljubljana, Slovenia, where he is currently engaged in research projects on citizenship education and multiculturalism. His research focuses on political theory and philosophy of education. He has edited a number of journal special issues on citizenship education and has interviewed some of the most renowned contemporary political philosophers on the topic of education and political theory, including Michael Walzer, Iris Marion Young and Martha C. Nussbaum. He is Executive Editor of Theory and Research in Education.
See More
More in this series