A Companion to the Ancient Novel
ISBN: 978-1-4443-3602-3
632 pages
March 2014, Wiley-Blackwell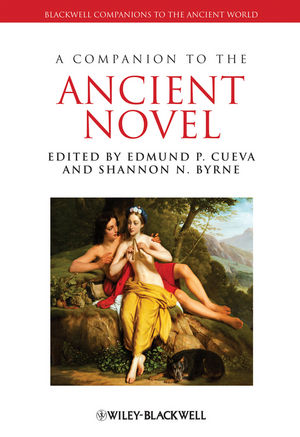 This companion addresses a topic of continuing contemporary relevance, both cultural and literary.
Offers both a wide-ranging exploration of the classical novel of antiquity and a wealth of close literary analysis
Brings together the most up-to-date international scholarship on the ancient novel, including fresh new academic voices
Includes focused chapters on individual classical authors, such as Petronius, Xenophon and Apuleius, as well as a wide-ranging thematic analysis
Addresses perplexing questions concerning authorial expression and readership of the ancient novel form
Provides an accomplished introduction to a genre with a rising profile
See More
Notes on Contributors viii
Introduction 1
Edmund P. Cueva and Shannon N. Byrne
Part I Novels and Authors 11
a. Greek 12
1 Chariton: Individuality and Stereotype 13
Graham Anderson
2 Daphnis and Chloe: Innocence and Experience, Archetypes and Art 26
Jean Alvares
3 Xenophon, The Ephesian Tales 43
James N. O'Sullivan
4 Achilles Tatius, Sophistic Master of Novelistic Conventions 62
Kathryn S. Chew
5 Heliodorus, the Ethiopian Story 76
Marília P. Futre Pinheiro
b. Roman 95
6 Petronius, Satyrica 96
Heinz Hofmann
7 Apuleius' The Golden Ass: The Nature of the Beast 119
Paula James
8 Historia Apollonii Regis Tyri 133
Giovanni Garbugino
c. Related 146
9 The Other Greek Novels 147
Susan Stephens
10 Hell-bent, Heaven-sent: From Skyman to Pumpkin 159
Barry Baldwin
11 The Novel and Christian Narrative 180
David Konstan and Ilaria Ramelli
Part II Genre and Approaches 199
12 The Genre of the Novel: A Theoretical Approach 201
Marília P. Futre Pinheiro
13 The Management of Dialogue in Ancient Fiction 217
Graham Anderson
14 Characterization in the Ancient Novel 231
Koen De Temmerman
15 Liaisons Dangereuses: Epistolary Novels in Antiquity 244
Timo Glaser
16 The Life of Aesop (rec.G): The Composition of the Text 257
Consuelo Ruiz-Montero
Part III Influences and Intertextuality 273
17 Reception of Strangers in Apuleius' Metamorphoses: The Examples of Hypata and Cenchreae 275
Stavros Frangoulidis
18 From the Epic to the Novelistic Hero: Some Patterns of a Metamorphosis 288
Luca Graverini
19 Roman Elegy and the Roman Novel 300
Judith P. Hallett and Judith Hindermann
20 Apuleius' Metamorphoses: A Hybrid Text? 317
Paula James
21 The Magnetic Stone of Love: Greek Novel and Poetry 330
Françoise Létoublon
22 "Respect these Breasts and Pity Me": Greek Novel and Theater 352
Françoise Létoublon and Marco Genre
23 Poems in Petronius' Satyrica 371
Aldo Setaioli
24 Various Asses 384
Niall W. Slater
25 Greek Novel and Greek Archaic Literature 400
Giuseppe Zanetto
26 Ekphrasis in the Ancient Novel 411
Angela Holzmeister
Part IV Themes and Topics 425
27 Miscellanea Petroniana: A Petronian Enthusiast's Thoughts and Reviews 427
Barry Baldwin
28 Love, Myth, and Ritual: The Mythic Dimension and Adolescence in Longus' Daphnis and Chloe 441
Anton Bierl
29 Gender in the Ancient Novel 456
Ellen D. Finkelpearl
30 Education as Construction of Gender Roles in the Greek Novels 473
Sophie Lalanne
31 Greek Love in the Greek Novel 490
John F. Makowski
32 Latin Culture in the Second Century ad 502
Claudio Moreschini
33 Mimet(h)ic Paideia in Lucian's True History 522
Peter von Möllendorff
34 Reimagining Community in Christian Fictions 535
Judith Perkins
35 The Poetics of Old Wives' Tales, or Apuleius and the Philosophical Novel 552
Stefan Tilg
36 Achilles Tatius and Heliodorus: Between Aristotle and Hitchcock 570
Martin M. Winkler
37 Longus' Daphnis and Chloe: Literary Transmission and Reception 584
Maria Pia Pattoni
Index 598
See More
Shannon N. Byrne is Professor of Classics at Xavier University.
Edmund P. Cueva is Professor of Classics and Humanities at the University of Houston-Downtown. Together, they have coedited several books, including of Authors, Authority and Interpreters in the Ancient Novel: Essays in Honor of Gareth L. Schmeling (with J. Alvares, 2006), Longus: Text, Commentary and Vocabulary (2005), and Humor and Classical Literature (2002).
See More
More in this series