Mind Games: 31 Days to Rediscover Your Brain
ISBN: 978-1-4443-3709-9
Paperback
168 pages
March 2011, Wiley-Blackwell
US $19.95

Add to Cart
This price is valid for United States. Change location to view local pricing and availability.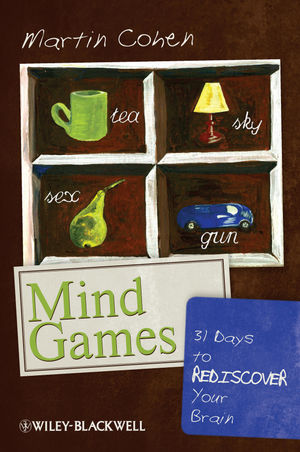 Other Available Formats:
E-book
March 01, 2011
Mind Games: 31 Days to Rediscover Your Brain
Connect with Wiley Publicity
The question of consciousness is a key mystery of the mind, and one of the primary mystifying ideas in the study of philosophy. Science can explain everything else, but the strange sense of self-awareness– it can only dismiss as an illusion. Mind Games: 31 Days to Rediscover Your Brain (March 2011 U.S.) is a collection of practical and entertaining thought experiments that while stimulating the mind, can also be used as a vehicle for investigating the complexities of thought, feeling, and awareness.
These are not Sudoku puzzles or games that explore the functions and behaviors of the brain in the scientific sense, nor are they abstract philosophical games that test the application of logic to imaginary scenarios. Rather, Cohen uses these fun, eye-opening, and inventive experiments to ask the reader to personally investigate the way that their mind and the minds around them actually work, the way in which the mind deals with things that do and do not exist, that do and do not make sense, and with things that cannot be explained. Readers will come away with a sense of possibility and knowledge of the variety of colorful and complex idiosyncrasies of the human mind.
Martin Cohen, "Some people think they can project thoughts instantaneously across distances, cause departed souls to re-materialise, and, of course, pass messages directly to the Creator. Yet if serious philosophers have been loath to countenance such irrationality, that's no reason to pass up an opportunity for some alternative thought experiments here. For philosophy should be open to all questions and answers, not just those that fit the narrow fashions of the times. It turns out that the way you think, and the way I think, are not quite as individual as "I think, therefore I am" implies. The human mind is created and renewed at every moment collectively, and no one of us, as Socrates' prisoner finds out after fleeing the cave, can pierce the veil of convention by introspection alone."
In Mind Games: 31 Days to Rediscover Your Brain Cohen playfully reunites the more serious questions of consciousness found within the fields of psychology, sociology, political theory, and traditional philosophy. The book includes specially drawn illustrations by the French avant-garde artist, Judit.