A Companion to Ethnicity in the Ancient Mediterranean
ISBN: 978-1-4443-3734-1
600 pages
August 2014, Wiley-Blackwell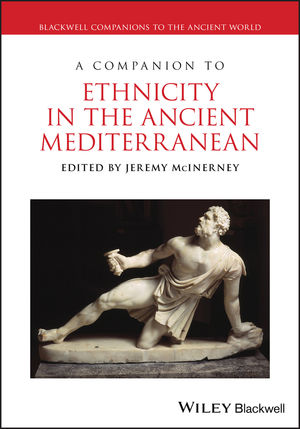 A Companion to Ethnicity in the Ancient Mediterranean presents a comprehensive collection of essays contributed by Classical Studies scholars that explore questions relating to ethnicity in the ancient Mediterranean world.
Covers topics of ethnicity in civilizations ranging from ancient Egypt and Israel, to Greece and Rome, and into Late Antiquity
Features cutting-edge research on ethnicity relating to Philistine, Etruscan, and Phoenician identities
Reveals the explicit relationships between ancient and modern ethnicities
Introduces an interpretation of ethnicity as an active component of social identity
Represents a fundamental questioning of formally accepted and fixed categories in the field
See More
Notes on Contributors ix
Acknowledgments xv
1 Ethnicity: An Introduction 1
Jeremy McInerney
2 Ethnicity and Language in the Ancient Mediterranean 17
Harald Haarmann
3 Mediterranean Archaeology and Ethnicity 34
A. Bernard Knapp
4 Ethnicity and World-Systems Analysis 50
Thomas D. Hall
5 Ancient Ethnicity and Modern Identity 66
Johannes Siapkas
6 Bronze Age Identities: From Social to Cultural and Ethnic Identity 82
Kristian Kristiansen
7 Networks and Ethnogenesis 97
Anna C. F. Collar
8 Ethnic Identities, Borderlands, and Hybridity 112
Gary Reger
9 Hittites and Anatolian Ethnic Diversity 127
Trevor R. Bryce
10 Hybridity, Hapiru, and the Archaeology of Ethnicity in Second Millennium BCE Western Asia 142
Ann E. Killebrew
11 Ethnicity in Empire: Assyrians and Others 158
Geoff Emberling
12 Achaemenids, Royal Power, and Persian Ethnicity 175
Jennifer Gates-Foster
13 Nubian and Egyptian Ethnicity 194
Stuart Tyson Smith
14 The Study of Greek Ethnic Identities 213
Nino Luraghi
15 Ethnicity and Local Myth 228
Angela Ganter, née Kühr
16 Autochthony in Ancient Greece 241
James Roy
17 Ethnicity and the Stage 256
Efi Papadodima
18 Ethnos and Koinon 270
Emily Mackil
19 Messenia, Ethnic Identity, and Contingency 285
Alexander Thein
20 Ethnicity and Geography 298
Philip Kaplan
21 Black Sea Ethnicities 312
Gocha R. Tsetskhladze
22 Greeks and Phoenicians in the Western Mediterranean 327
Corinne Bonnet
23 Herodotus and Ethnicity 341
Rosaria Vignolo Munson
24 Ethnicity and Representation 356
S. Rebecca Martin
25 Ethnicity: Greeks, Jews, and Christians 376
Aaron P. Johnson
26 Greek Ethnicity and the Second Sophistic 390
Adam M. Kemezis
27 Ethnicity and the Etruscans 405
Nancy T. de Grummond
28 Romans and Jews 423
Erich S. Gruen
29 Romans and Italians 437
Gary D. Farney
30 Roman Elite Ethnicity 455
Parshia Lee-Stecum
31 Ethnicity in Roman Religion 470
Jörg Rüpke
32 Ethnicity and Gender 483
Kathryn Lomas
33 Ethnicity in the Roman Northwest 497
Ursula Rothe
34 Lucanians and Southern Italy 514
John W. Wonder
35 Who Are You? Africa and Africans 527
Brent D. Shaw
36 Becoming Roman Again: Roman Ethnicity and Italian Identity 541
Valentina Follo
37 Goths and Huns 555
Walter Pohl
Index 569
See More
Jeremy McInerney is the Davidson Kennedy Professor of Classical Studies at the University of Pennsylvania. He is the author of The Folds of Parnassos (1999) and The Cattle of the Sun (2010).
See More
More in this series