Insect Outbreaks Revisited
ISBN: 978-1-4443-3759-4
Hardcover
480 pages
August 2012, Wiley-Blackwell
US $129.95

Add to Cart
This price is valid for United States. Change location to view local pricing and availability.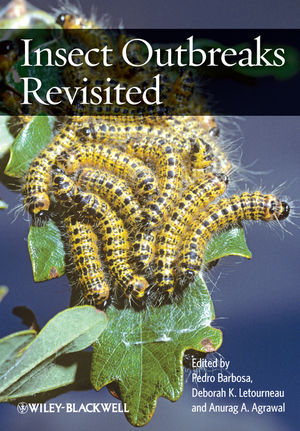 Other Available Formats:
E-book
Contributors viii
Acknowledgments xi
Preface xii
PART I PHYSIOLOGICAL AND LIFE HISTORY PERSPECTIVES 1
1 Insect Herbivore Outbreaks Viewed through a Physiological Framework: Insights from Orthoptera 3
Spencer T. Behmer and Anthony Joern
2 The Dynamical Effects of Interactions between Inducible Plant Resistance and Food Limitation during Insect Outbreaks 30
Karen C. Abbott
3 Immune Responses and Their Potential Role in Insect Outbreaks 47
J. Gwen Shlichta and Angela M. Smilanich
4 The Role of Ecological Stoichiometry in Outbreaks of Insect Herbivores 71
Eric M. Lind and Pedro Barbosa
PART II POPULATION DYNAMICS AND MULTISPECIES INTERACTIONS 89
5 Plant-Induced Responses and Herbivore Population Dynamics 91
André Kessler, Katja Poveda, and Erik H. Poelman
6 Spatial Synchrony of Insect Outbreaks 113
Andrew M. Liebhold, Kyle J. Haynes, and Ottar N. Bjørnstad
7 What Tree-Ring Reconstruction Tells Us about Conifer Defoliator Outbreaks 126
Ann M. Lynch
8 Insect-Associated Microorganisms and Their Possible Role in Outbreaks 155
Yasmin J. Cardoza, Richard W. Hofstetter, and Fernando E. Vega
PART III POPULATION, COMMUNITY, AND ECOSYSTEM ECOLOGY 175
9 Life History Traits and Host Plant Use in Defoliators and Bark Beetles: Implications for Population Dynamics 177
Julia Koricheva, Maartje J. Klapwijk, and Christer Björkman
10 The Ecological Consequences of Insect Outbreaks 197
Louie H. Yang
11 Insect Outbreaks in Tropical Forests: Patterns, Mechanisms, and Consequences 219
Lee A. Dyer, Walter P. Carson, and Egbert G. Leigh Jr.
12 Outbreaks and Ecosystem Services 246
Timothy D. Schowalter
PART IV GENETICS AND EVOLUTION 267
13 Evidence for Outbreaks from the Fossil Record of Insect Herbivory 269
Conrad C. Labandeira
14 Implications of Host-Associated Differentiation in the Control of Pest Species 291
Raul F. Medina
PART V APPLIED PERSPECTIVES 311
15 Disasters by Design: Outbreaks along Urban Gradients 313
Michael J. Raupp, Paula M. Shrewsbury, and Dan A. Herms
16 Resistance to Transgenic Crops and Pest Outbreaks 341
Bruce E. Tabashnik and Yves Carrière
17 Natural Enemies and Insect Outbreaks in Agriculture: A Landscape Perspective 355
J. Megan Woltz, Benjamin P. Werling, and Douglas A. Landis
18 Integrated Pest Management – Outbreaks Prevented, Delayed, or Facilitated? 371
Deborah K. Letourneau
19 Insect Invasions: Lessons from Biological Control of Weeds 395
Peter B. McEvoy, Fritzi S. Grevstad, and Shon S. Schooler
20 Assessing the Impact of Climate Change on Outbreak Potential 429
Maartje J. Klapwijk, Matthew P. Ayres, Andrea Battisti, and Stig Larsson
Subject Index 451
Taxonomic Index 459
Colour plate pages fall between pp. 196 and 197