Economics and History: Surveys in Cliometrics
ISBN: 978-1-4443-3780-8
304 pages
September 2011, Wiley-Blackwell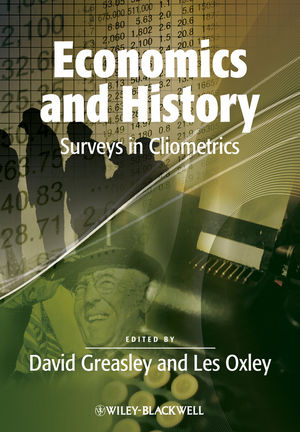 Economics and History
presents six state-of-the-art surveys from some of the leading scholars in cliometrics. The contributions are all written at an accessible level for the non-specialist reader and consider a broad range of issues from this highly topical area.
Written clearly and comprehensively, allowing easy accessibility for the non-specialist reader

Brings together the very latest research in this highly topical subject from leading scholars

Contributions cover a broad range of areas within this subject

The latest publication in the highly successful Surveys of Recent Research in Economics Book Series
See More
Notes on Contributors vi
1 Clio and the Economist: Making Historians Count 1
David Greasley and Les Oxley
2 Social Savings 21
Tim Leunig
3 Longitudinal Studies of Human Growth and Health: A Review of Recent Historical Research 47
Kris Inwood and Evan Roberts
4 Improving Human Development: A Long-Run View 87
Leandro Prados de la Escosura
5 A Patchwork Safety Net: A Survey of Cliometric Studies of Income Maintenance Programs in the United States in the First Half of the Twentieth Century 141
Price Fishback, Samuel Allen, Jonathan Fox and Brendan Livingston
6 The Cliometrics of International Migration: A Survey 187
Timothy J. Hatton
7 Cliometrics and Time Series Econometrics: Some Theory and Applications 217
David Greasley and Les Oxley
Index 289
See More
David Greasley
is Professor of Economic History in the School of History, Classics and Archaeology at Edinburgh University. His research interests include the construction of national income accounts in historical perspective, comparative economic development, the Great Depression in the USA, British industrialization since 1700, and the economic history of New Zealand.
Les Oxley is Professor in Economics at the University of Canterbury, and Adjunct Professor at Curtin University of Technology, Australia.  His research interests include modelling and testing theories of economic growth, financial econometrics, intellectual property, energy economics and cliometrics.  He is a founding editor of Blackwell's Journal of Economic Surveys and sits on the editorial boards of several international journals.
See More
More in this series