A Companion to Hume
ISBN: 978-1-4443-3786-0
Paperback
592 pages
May 2011, Wiley-Blackwell
US $51.95

Add to Cart
This price is valid for United States. Change location to view local pricing and availability.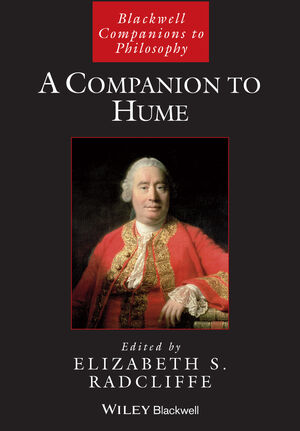 "This is a superb collection of essays by both established Hume scholars and newer names in Hume studies . . . such books do this job very well and this one on Hume especially so: the reader is fortunate to have as guides, Louis Loeb on induction, Rachel Cohon on the passions, and Terence Penelhum on religion, to pick, as examples, just three of the excellent range of authors". (Metapsychology Online Reviews, 2011)
"Blackwell's fortieth Companion to Philosophy is a splendid and long-overdue Companion to Hume, expertly pulled together by Elizabeth Radcliffe, a former editor of the journal Hume Studies. Although the Blackwell Companions are promoted as a student reference series, this particular volume is clearly of considerable value to serious scholars as well." (Religion in the Age of Enlightenment, December 2010)"One distinctive feature of this Blackwell Companion to Hume is that it attempts to be more careful than is common with books of its sort to mark a distinction between explicating Hume's own ideas and arguments, and assessing their relevance to present-day philosophical discussion." (Notre Dame Philosophical Reviews, February 2009)
"[The book is] highly approachable, well-organized, and—in a field where a lot is published—a distinctive addition." (Reference Reviews, Issue 7 2008)
"The essays are of uniformly high quality, and many are written by well-established, respected philosophers.... David Hume is widely recognized as one of the most important and influential figures in modern philosophy. Every library should have a copy of this valuable resource, which will appeal to anyone interested in Hume's philosophy. Highly recommended." (Choice)
"An outstanding collection that will be both a guide for students and a stimulus to scholars. Elizabeth Radcliffe and her distinguished contributors cast fresh and clarifying light on each of the many topics they address."
–
Kenneth Winkler
, Yale University
"Elizabeth Radcliffe has achieved a remarkable feat of editorial organization. This will be a major reference resource for those who want to see the main directions in which Hume studies are currently heading. Topics are well chosen. Contributors range from some of our most distinguished senior scholars to talented recruits from the rising generation."
–M.A. Stewart, University of Aberdeen