Sociological Routes and Political Roots
ISBN: 978-1-4443-3813-3
308 pages
July 2011, Wiley-Blackwell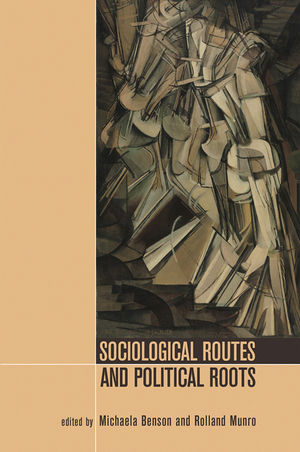 This monograph explores the interplay between ideas of the political and the way that we, as sociologists, look at the phenomena that we study. 
Shows what empirical sociological enquiries into the political reveal on theoretical and conceptual levels
Discusses how sociologists should study and understand a political environment 
Evaluates how the political intersects with current social identities and divisions
Includes empirical and theoretical cases 
See More
Introduction
Unfolding social construction: sociological routes and political roots (Rolland Munro)

Part 1: Borders
1. The Danube and ways of imagining Europe (Michael Schillmeier and Wiebke Pohler)
2. The art of narrating and the question of cultural acknowledgment: the case of Die Kinder von Golzow and a reunified Germany (Barbara Grüning)

Part 2: Belonging
3. Landscape, imagination and experience: processes of emplacement among the British in rural France (Michaela Benson)
4. The reproduction of 'cultural taste' amongst the Ukrainian Diaspora in Bradford, England (Oscar Forero and Graham Smith)
5. Forum for the Ugly People - study of an imagined community (Maria Adamczyk)

Part 3: Theory
6. Sociological analysis and socio-political change: juxtaposing elements of the work of Bourdieu, Passeron and Lyotard (Derek Robbins)
7. Cultivating disconcertment (John Law and Wen-yuan Lin)
8. Epistemology and the politics of knowledge (Celine-Marie Pascale)

Part 4: Discourse
9. Populist elements in contemporary American political discourse (Ritchie Savage)
10. Released from gender? Reflexivity, performativity, and therapeutic discourses (Katerina Lišková)
11. Embracing dependency: rethinking (in)dependence in the discourse of care (Bernhard Weicht)

Part 5: Social movements
12. Curious cases: small island states' exceptionalism and its contribution to comparative welfare theory (Zoë Irving)
13. The political-opportunity structure of the Spanish anti-war movement (2002-2004) and its impact (Isis Sánchez Estellés)
14. Between mobility and mobilization - lifestyle migration and the practice of European identity in political struggles (Michael Janoschka)

Notes on contributors

Index
See More
Michaela Benson
is a research assistant at the University of Bristol. She previously held the Sociological Review fellowship (2008-9), and is the author of
The British in Rural France
(2011), and co-editor of the volume
Lifestyle Migration
(2009).
Rolland Munro is Emeritus Professor at Keele University and was previously Director of the Centre for Social Theory & Technology, CSTT. He is internationally regarded for his path-breaking and interdisciplinary work on consumption, power and identity.
See More
More in this series