Inflammatory Diseases of Blood Vessels, 2nd Edition
ISBN: 978-1-4443-3822-5
596 pages
July 2012, Wiley-Blackwell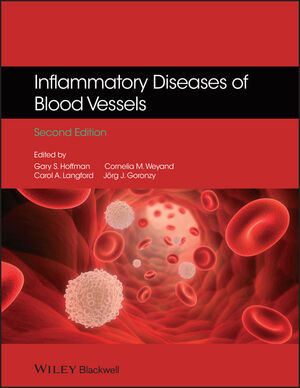 In recent years, considerable progress has been made in understanding the vasculitic diseases, largely due to the introduction of effective treatments for diseases that were once uniformly fatal, the conduct of structured clinical studies, and advances in immunology and molecular biology. Despite these achievements, the vasculitic diseases continue to be associated with morbidity and mortality from chronic organ damage, relapses, and the side effects of treatment. Investigations into the mechanisms of vascular inflammation may lead to a better comprehension of the pathogenesis of vasculitic diseases and to treatment that is more effective and less toxic. These areas of promising research, together with current knowledge about the vasculitic diseases, are extensively examined in this new edition, which is designed to provide a comprehensive overview of the science and clinical consequences of vascular inflammation in health and disease.
See More
List of Contributors
Preface
Section I. Biology of Blood Vessels and Mechanisms of Vascular Inflammation
1 Vascular Development
Domenico Ribatti and Enrico Crivellato
2 Vascular Repair
Christian Troidl, Kerstin Troidl, Georg Jung, Thomas Schmitz-Rixen and Wolfgang Schaper
3 Leukocyte Trafficking
Braedon McDonald and Paul Kubes
4 Dendritic Cells and Vascular Inflammation
Cornelia M. Weyand
5 T Cells and Vascular Inflammation
Jörg J. Goronzy
6 Autoantibodies and Vascular Inflammation
A.Rutgers, J.S.F. Sanders, J.W. Cohen Tervaert, C.G.M. Kallenberg
7 Neutrophils and Vascular Inflammation
Matthew David Morgan and Caroline OS Savage
8 Cytokines and Vascular Inflammation
Maria C Cid, Marc Corbera-Bellalta, Ester Planas-Rigol, Ester Lozano, Georgina Espígol-Frigolé, Ana García-Martínez, José Hernández-Rodríguez, Marta Segarra
9 Oxidative Stress and Vascular Inflammation
David G. Harrison
10 Hemostasis and Vascular Inflammation
Lawrence Leung and John Morser
11 Animal Models of Vasculitis
Masato Nose
12 Arteries, Smooth Muscle Cells, and Genetic Causes of Thoracic Aortic Aneurysms
Amy J. Reid and Dianna M. Milewicz
13 Innate Immunity in Atherosclerosis
Shuang Chen, Prediman K. Shah and Moshe Arditi
14 Adaptive Immunity in Atherosclerosis
Jan Nilsson
Section II. Primary Autoimmune Vascular Diseases
15 Historical Perspectives Vasculitis
Eric L. Matteson
16 Approach to the Differential Diagnosis of Vasculitis
Eamonn S. Molloy and Carol A. Langford
17 Imaging of medium and large vessels (CT/PET/MR)
Thorsten Alexander Bley
18 Kawasaki disease
Rae S.M. Yeung
19 Henoch-Schonlein Purpura
Philip J. Hashkes and Alexandra Villa-Forte
20 Polyarteritis Nodosa
Eli M. Miloslavsky and John H. Stone
21 Microscopic polyangiitis
Coen Stegeman
22 Granulomatosis with Polyangiitis (Wegener's Granulomatosis)
Gary S. Hoffman, Carol A. Langford and Ulrich Specks
23 Churg–Strauss Syndrome (Eosinophilic Granulomatosis with Polyangiitis, EGPA)
Christian Pagnoux and Loïc Guillevin
24 Giant cell arteritis
Cornelia M. Weyand and Jörg J. Goronzy
25 Takayasu's arteritis
Kathleen Maksimowicz-McKinnon and Gary S. Hoffman
26 Behçet's Syndrome
Yusuf Yazici, Ismail Simsek and Hasan Yazici
27 Cogan's Syndrome
Rex M. McCallum and E. William St. Clair
28 Idiopathic cryoglobulinemic vasculitides
Benjamin Terrier and Patrice Cacoub
29 Primary central nervous system vasculitis
Rula A. Hajj-Ali and Leonard H. Calabrese
30 Single organ vasculitis
José Hernández-Rodríguez and Gary S. Hoffman
31 Primary cutaneous vasculitis
Jeffrey P. Callen
32 Buerger's disease (thromboangiitis obliterans)
Ahmet Ruchan Akar and M. Serkan Durdu
Section III. Secondary Causes of Vasculitis
33 Virus-associated vasculitides
Dimitrios Vassilopoulos and Leonard H. Calabrese
34 Drug-induced vasculitis
Peter A. Merkel
35 Rheumatoid vasculitis
Kimberly P. Liang, Carl Turesson, Larry W. Moreland
36 Vasculopathy/Vasculitis and progressive systemic sclerosis
Nezam Altorok, Omar R. Kahaly and Bashar Kahaleh
37 Vasculitis and Sjögren's syndrome
George E. Fragoulis and Haralampos M. Moutsopoulos
38 Vasculitis in systemic lupus erythematosus
Ricardo Garcia and Andras Perl
39 Vasculitis in the Idiopathic Inflammatory Myopathies
Frederick W. Miller and Chester V. Oddis
40 Vasculitis and relapsing polychondritis
Tanaz A. Kermani and Kenneth J. Warrington
41 Systemic Vasculitis in Sarcoidosis
Alexandra Villa-Forte and Gary S. Hoffman
42 Vasculitis as a Paraneoplastic Syndrome and Direct Tumour Invasion of Vessels
Claire E. Barber and Simon Carette
Section IV. Recognizing Risks and Treating Damage from Vasculitis
43 Cholesterol and Modifications of Cholesterol in Rheumatic Disorders
Jan Willem Cohen Tervaert
44 Prevention and treatment of medical complications
Atul Khasnis and Carol A. Langford
45 Ophthalmic Risks and Complications Aassociated with the Treatment of Systemic Vasculitis
Steven Yeh and James T. Rosenbaum
46 Subglottic Stenosis of Granulomatosis with Polyangiitis (Wegener's Granulomatosis)
Rahul Seth and Daniel S. Alam
47 Sino-Nasal Manifestations of Granulomatosis with Polyangiitis (Wegener's Granulomatosis)
Daniel S. Alam, Rahul Seth, Raj Sindwani
48 Neurologic Damage of Vasculitis
C. David Lin
49 Endstage Renal Disease and Vasculitis
Kirsten de Groot and Charles Pusey
50 Cardiothoracic Surgery for Takayasu's Arteritis and Giant Cell Arteritis
Turki Albacker and Lars Svensson
51 Peripheral Vascular Surgery for Takayasu's Arteritis and Giant Cell Arteritis
Ravi R. Rajani and Vikram S. Kashyap
Index
See More
"This book provides a comprehensive overview of the science and clinical consequences of vascular inflammation in health and disease."  (European Journal of Immunology, 1 December 2012)
"Overall, this is an excellent source of information on vasculitis for physicians at any level, including practicing rheumatologists."  (Doody's, 2 November 2012)
See More
Buy Both and Save 25%!
Inflammatory Diseases of Blood Vessels, 2nd Edition (US $263.95)
-and- Transfusion Medicine, 3rd Edition (US $94.95)
Total List Price: US $358.90
Discounted Price: US $269.17 (Save: US $89.73)
Cannot be combined with any other offers. Learn more.