The World Economy: Global Trade Policy 2010
ISBN: 978-1-4443-3906-2
320 pages
September 2011, Wiley-Blackwell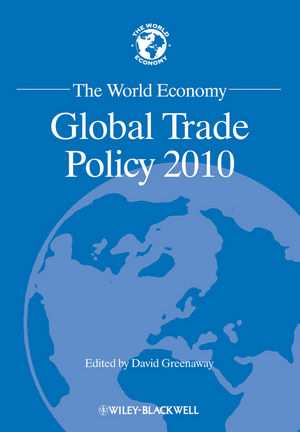 This is the seventeenth volume in an annual series in which leading economists provide a concise and accessible evaluation of major developments in trade and trade policy.
Examines key issues pertinent to the multinational trading system, as well as regional trade arrangements and policy developments at the national level

Provides up-to-date assessments of the World Trade Organization's current Trade Policy Reviews

A vital resource for researchers, analysts and policy-advisors interested in trade policy and other open economy issues

Analyses global trade policy in Turkey, China and The Dominican Republic, and a survey by Tarlok Singh questions whether international trade does cause economic growth

Includes chapters exploring WTO issues, and a section on regional trading agreements
See More
Foreword vii
List of Contributors viii
TRADE POLICY REVIEWS
1 Turkey: Trade Policy Review, 2007 1
 SÜBIDEY TOGAN
2 China Trade Policy Review: A Political Economy Approach  52
CHANGYUAN LUO and JUN ZHANG
3 The Dominican Republic Trade Policy Review 2008  76
AMELIA U. SANTOS-PAULINO
WTO ISSUES
4 Modelling the Extensive Margin of World Trade: New Evidence on GATT and WTO Membership  92
GABRIEL FELBERMAYR and WILHELM KOHLER
5 How Effective are WTO Disciplines on Domestic Support and Market Access for Agriculture? 131
DAVID BLANDFORD, IVAR GAASLAND, ROBERTO GARCIA and ERLING VÅRDAL
6 Why is the Doha Development Agenda Failing? And What Can Be Done? A Computable General Equilibrium–Game Theoretical Approach   147
ANTOINE BOUËT and DAVID LABORDE
SURVEY
7 Does International Trade Cause Economic Growth? A Survey   176
TARLOK SINGH
REGIONAL TRADING AGREEMENTS
8 Beyond the WTO? An Anatomy of EU and US Preferential Trade Agreements  223
 HENRIK HORN, PETROS C. MAVROIDIS and ANDRÉ SAPIR
9 Third-country Effects of Regional Trade Agreements   247
CAROLINE FREUND
10 Dispensing with NAFTA Rules of Origin? Some Policy Options  264
 PATRICK GEORGES
Index 296
See More
David Greenaway is Vice-Chancellor of the University of Nottingham, where he is also Professor of Economics and Research Fellow in the Leverhulme Centre for Research on Globalisation and Economic Policy.
See More
More in this series