Historicising Gender and Sexuality
ISBN: 978-1-4443-3944-4
260 pages
October 2011, Wiley-Blackwell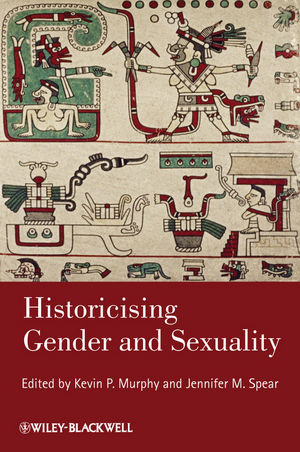 Historicising Gender and Sexuality
features a diverse collection of essays that shed new light on the historical intersections between gender and sexuality across time and space.
Demonstrates both the particularities of specific formulations of gender and sexuality and the nature of the relationship between the categories themselves

Presents evidence that careful and contextualised analysis of the shifting relationship of gender and sexuality illuminates broader historical processes
See More
Notes on Contributors
vii
Introduction
KEVIN P. MURPHY and JENNIFER M. SPEAR 1
1 Imagining Cihuacoatl: Masculine Rituals, Nahua Goddesses and the Texts of the Tlacuilos
PETE SIGAL 12
2 Power and Historical Figuring: Rachael Pringle Polgreen's Troubled Archive
MARISA J. FUENTES 38
3 Gender, Sexuality and the Formation of Racial Identities in the Eighteenth-Century Anglo-Caribbean World
BROOKE N. NEWMAN 59
4 Xing: The Discourse of Sex and Human Nature in Modern China
LEON ANTONIO ROCHA 77
5 Epistemic Modernity and the Emergence of Homosexuality in China
HOWARD CHIANG 103
6 Overcoming 'Simply Being': Straight Sex, Masculinity and Physical Culture in Modern Egypt
WILSON CHACKO JACOB 132
7 Monitoring and Medicalising Male Sexuality in Semi-Colonial Egypt
HANAN KHOLOUSSY 151
8 The Volatility of Sex: Intersexuality, Gender and Clinical Practice in the 1950s
SANDRA EDER 166
9 'A Certain Amount of Prudishness': Nudist Magazines and the Liberalisation of American Obscenity Law, 1947–58
BRIAN HOFFMAN 182
10 Cold War Conflicts and Cheap Cabaret: Sexual Politics at the 1975 United Nations International Women's Year Conference
JOCELYN OLCOTT 207
11 Gender and Sexuality in Latina/o Miami: Documenting Latina Transsexual Activists
SUSANA PENÃ 229
Index 247
See More
Kevin P. Murphy
is Associate Professor of History and American Studies at the University of Minnesota. He is the author of
Political Manhood: Red Bloods, Mollycoddles, and the Politics of Progressive Era Reform
(2008), co-editor of
Queer Twin Cities
(2010), and co-editor of "Queer Futures," a special issue of the
Radical History Review
(2008).
Jennifer M. Spear is Assistant Professor of History at Simon Fraser University. She is the author of Race, Sex, and Social Order in Early New Orleans (2009).
See More
More in this series