A Handbook to the Reception of Classical Mythology
ISBN: 978-1-4443-3960-4
496 pages
April 2017, Wiley-Blackwell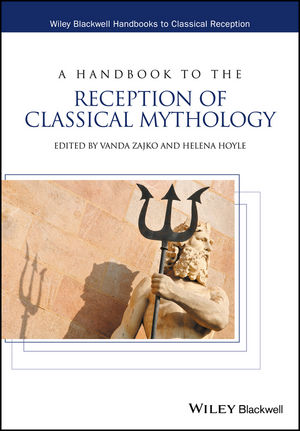 A Handbook to the Reception of Classical Mythology
presents a collection of essays that explore a wide variety of aspects of Greek and Roman myths and their critical reception from antiquity to the present day.
Reveals the importance of mythography to the survival, dissemination, and popularization of classical myth from the ancient world to the present day
Features chronologically organized essays that address different sets of myths that were important in each historical era, along with their thematic relevance
Features chronologically organized essays that address different sets of myths that were important in each historical era, along with their thematic relevance
Offers a series of carefully selected in-depth readings, including both popular and less well-known examples
See More
Notes on Contributors ix
Introduction 1
Vanda Zajko
Part I Mythography 13
1 Greek Mythography 15
Robert L. Fowler
2 Roman Mythography 29
Gregory Hays
3 Myth and the Medieval Church 43
James G. Clark
4 The Renaissance Mythographers 59
John Mulryan
5 Bulfinch and Graves: Modern Mythography as Literary Reception 75
John Talbot
6 Myth Collections for Children 87
Sheila Murnaghan and Deborah H. Roberts
7 Contemporary Mythography: In the Time of Ancient Gods, Warlords, and Kings 105
Ika Willis
Part II Approaches and Themes 121
8 Circean Enchantments and the Transformations of Allegory 123
Greta Hawes
9 The Comparative Approach 139
Sarah Iles Johnston
10 Revisionism 153
Lillian Doherty
11 Alchemical Interpretations of Classical Myths 165
Didier Kahn
12 Nationalism and Cosmopolitanism: On the Gods of Greece, Italy, and India 179
Phiroze Vasunia
13 The Golden Age 193
Andreas T. Zanker
14 Matriarchy and Utopia 213
Peter Davies
Part III Myth, Creativity, and the Mind 229
15 The Half ]Blood Hero: Percy Jackson and Mythmaking in the Twenty-First Century 231
Joanna Paul
16 Myth as Case Study 243
Heather Tolliday
17 Mythical Narrative and Self ]Development 257
Meg Harris Williams
18 Finding Asylum for Virginia Woolf 's Classical Visions 271
Emily Pillinger
Part IV Iconic Figures and Texts 285
19 Orpheus and Eurydice 287
Genevieve Liveley
20 Narcissus and Echo 299
Rosemary Barrow
21 Prometheus, Pygmalion, and Helen: Science Fiction and Mythology 311
Tony Keen
22 Dionysus in Rome 323
Fiachra Mac Góráin
23 Cupid and Psyche 337
Julia Haig Gaisser
24 Constructing a Mythic City in the Book of the City of Ladies: A New Space for Women in Late Medieval Culture 353
Kathryn McKinley
25 Francis Bacon's Wisdom of the Ancients: Between Two Worlds 367
John Channing Briggs
26 Pieter Bruegel the Elder's Landscape with the Fall of Icarus 379
Jeanne Nuechterlein
27 Ancient and Modern Re ]sounding: Monteverdi's Il ritorno d'Ulisse in patria 391
George Burrows
28 Shelley Prometheus Unbound 407
Michael O'Neill
29 George Bernard Shaw: Pygmalion 419
Helen Slaney
30 Camus and the Myth of Sisyphus 433
Kurt Lampe
31 Creative Strategies: Lars von Trier's Medea 447
Mette Hjort
32 Regarding the Pain of Others with Marsyas: On Tortures Ancient and Modern 463
Lisa Saltzman
Index 475
See More
Vanda Zajko is Reader in Classics at the University of Bristol, UK. She is co-editor with Miriam Leonard of Laughing with Medusa: Classical Myth and Feminist Thought (2006); with Alexandra Lianeri of Translation and the Classic: Identity as Change in the History of Culture (2008); and with Ellen O'Gorman of Classical Myth and Psychoanalysis: Ancient and Modern Stories of the Self (2013).
Helena Hoyle completed her PhD at the University of Bristol in 2016. Her research focused on feminist reader response theory towards Virgil's Aeneid in Ursula Le Guin's Lavinia.
See More
More in this series