E-book
A Companion to Mexican History and Culture
ISBN: 978-1-4443-4058-7
E-book
688 pages
March 2011, Wiley-Blackwell
US $169.99

Purchase This E-book
This price is valid for United States. Change location to view local pricing and availability.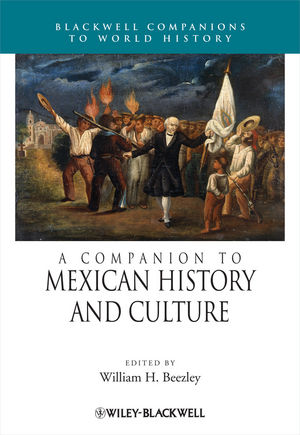 Adobe e-books are read using Adobe Digital Editions. Install Adobe Digital Editions on your PC in order to read or transfer your e-book.
Introduction: The Dimensions of the Mexican Experience.
William H. Beezley, University of Arizona.
PART I: The Mexican Experience.
1. Living the Vida Local: Contours of Everyday Life.
William E. French, University of British Columbia.
2.  The Street corner where stereotypes are born: Mexico City, 1940- 1968.
Ricardo Pérez Montfort, CIESAS-Tlalpán.
3.  Consumption and Material Culture from Pre-Contact to the Porfiriato.
Steven Bunker, University of Alabama and Victor Macías-González, University of Wisconsin-LaCrosse.
4.  Consumption and Material Culture in the 20th Century           .
Steven Bunker, University of Alabama and Victor Macías-González, University of Wisconsin-LaCrosse.
5.  Geographic Regionalism and Natural Diversity.
Christopher Boyer, University of Illinois-Chicago.
6.  The Cactus Metaphor.
David Yetman,"The Desert Speaks" PBS program.
PART II: The Indigenous World Before the Europeans.
7. The Gods Depart: Riddles of the Rise, Fall, and Regeneration of Mesoamerica's Indigenous Societies.
Susan Kellogg, University of Houston.
8. Painting History, Reading Painted history: Prehispanic Oaxaca and Colonial Central Mexico.
Liza Bakewell, Brown University and Byron Ellsworth Hamann, MesoLore.
PART III: The Silver Heart of the Spanish Empire: Colonial Experiences.
9. The Gods Return: Conquest and Conquest Society.
Matthew Restall and Robert Schwaller,, Pennsylvania  State University.
10.  The Kingdom of New Spain (includes demography).
Linda Curcio-Nagy, University of Nevada.
11. The Enlightened Colony.
Susan Deeds, Northern Arizona University.
PART IV: Two Centuries of Independence: The Republican Century.
12. Independence and the Generation of Generals, 1810-1848.
Christon Archer, University of Calgary.
13. The US Intervention in Mexican, 1846-1848.
Linda Arnold, Virginia Polytechnic Institute and State University.
14. Republicans and Monarchists, 1848-1867.
Erika Pani, El Colegio de México.
15. The Civilian and The General, 1867-1911.
Paul Garner, University of Leeds.
16. The Penal Code of 1871: From religious to civil control of everyday life.
Kathy Sloan, University of Arkansas.
17. Conquering the environment & surviving natural disasters.
James Garza, University of Nebraska.
18. Indigenism in general and the Maya in particular in the nineteenth-century.
Terry Rugeley and Michele M. Stephens , University of Oklahoma.
19. A Brief History of the Historia Moderna de México.
Servando Ortoll,  Centro de Investigaciones Culturales-Museo, Universidad Autónoma de Baja California-Mexicali, Pablo Piccato, Columbia University.
20. The House at 33 Sadi Carnot:  Amateur Photography and Domestic Architecture in Porfirian Culture.
Patricia Massé, Fototeca Nacional, Pachuca, México.
21. Disorder and control: crime, justice and punishment in Porfirian and Revolutionary Society.
Elisa Speckman, UNAM.
22. The Military and Nation, 1821 to 1916.
Stephen Neufeld, California State University-Fullerton.
PART V: Two Centuries of Independence: The Revolutionary Century.
23. The Sonoran Dynasty and the Reconstruction of the Mexican State Jurgen Buchenau, University of North Carolina-Charlotte.
24. Creating a Revolutionary Culture: Vasconcelos, Indians, Anthropologists, and Calendar Girls.
William H. Beezley University of Arizona.
25. Counter Revolutionary Programs: Social Catholicism and the Cristeros.
Daniel Newcomer, East Tennessee State University.
26. The Apogee of Revolution, 1934-1946 Susie Porter, University of Utah.
27. The Revolution's Second Generation: The Miracle, 1946-1982 and Collapse of the PRI, 1982-2000.
Roderic A. Camp, Claremont-McKenna College.
28. Photographing Indian Peoples: Ethnography as Kaleidoscope.
Deborah Dorotinsky, Instituto de Investigaciones Estéticas, UNAM.
29. Challenges, Political Opposition, Economic Disaster, Natural Disaster, and Democratization, 1968 to 2000.
Ariel Rodríguez Kouri, El Colegio de México.
30. Fighting Bacteria, the Bible, and the Bottle: Projects to Create New Men, Women, and Children, 1910-1940.
Gretchen Kristine Pierce, Shippensburg State University.
31. Environment and Environmentalism.
Emily Wakild, Wake Forest University.
32.  Peculiarities of Mexican Diplomacy.
Monica Rankin, University of Texas-Dallas and Dina Berger, Loyola University of Chicago.
33. Science and Public Health in the century of revolution.
Claudia Agostoni, UNAM, and Gabriela Soto Laveaga, University of California-Santa Barbara.
34. A Century of Childhood: Growing up in 20th-Century Mexico.
Elena Jackson Albarrán, Miami University (Ohio).
35. ¡De Pie y en Lucha! Indigenous Mobilizations After 1940.
María Múñoz, Susquehanna University.
36. Mexican Immigration to the United States.
Timothy Henderson, Auburn University-Montgomery.
37. Sex, Death and Structuralism: Alternative Views of the 20th Century.
Paul Gillingham, Independent Scholar.
38: For Further Research: Space, Sense, and Sensibility.
Ageeth Sluis, Butler University.
Index.