E-book
A Companion to Poetic Genre
ISBN: 978-1-4443-4429-5
608 pages
October 2011, Wiley-Blackwell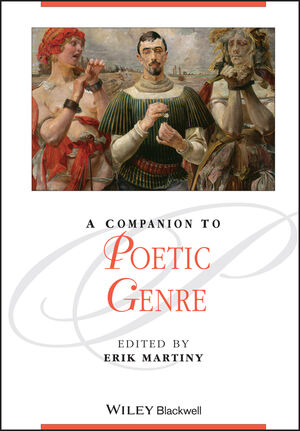 A Companion to Poetic Genre
brings together over 40 contributions from leading academics to provide critical overviews of poetic genres and their modern adaptations.
Covers a large range of poetic cultural traditions from Britain, Ireland, North America, Japan and the Caribbea
Summarises many genres from their earliest origins to their most recent renderings
The only full-length critical collection to deal with modern adaptations of poetic genres
Contributors include Bernard O'Donoghue, Stephen Burt, Jahan Ramazani, and many other notable scholars of poetry and poetics
See More
Notes on Contributors
ix
Preface xix
Acknowledgments xxiv
Part I
1 "To Get the News from Poems": Poetry as Genre 3
Jahan Ramazani
2 What Was New Formalism? 17
David Caplan
3 Meter 34
Peter L. Groves
4 The Stanza: Echo Chambers 53
Debra Fried
5 Trying to Praise the Mutilated World: The Contemporary American Ode 64
Ann Keniston
6 English Elegies 77
Neil Roberts
7 The Self-Elegy: Narcissistic Nostalgia or Proleptic Postmortem? 93
Eve C. Sorum
8 Free Verse and Formal: The English Ghazal 104
Lisa Sewell
9 On "the Beat Inevitable": The Ballad 117
Romana Huk
10 Oddity or Tour de Force? The Sestina 139
Nicole Ollier
11 The Rondeau: Still Doing the Rounds 157
Maria Johnston
12 Weaving Close Turns and Counter Turns: The Villanelle 171
Karen Jackson Ford
13 Looping the Loop: Terza Rima 188
George Szirtes
14 Ottava Rima: Quietly Facetious upon Everything 206
Michael Hinds
15 "Named Airs": American Sonnets (Stevens to Bidart) 220
Meg Tyler
16 African American Sonnets: Voicing Justice and Personal Dignity 234
Jeff Westover
17 The Liberties of Blank Verse 250
Patrick Jackson
18 Arcs of Movement: The Heroic Couplet 263
David Wheatley
19 In a Sea of Indeterminacy: Fourteen Ways of Looking at Haiku 277
Peter Harris
20 On the Pantoum, and the Pantunite Element in Poetry 293
Geoff Ward
21 "Gists and Piths": The Free-Verse Revolution in Contemporary American Poetry 306
Marie-Christine Lemardeley
22 The Emergent Prose Poem 318
Andy Brown
23 Concrete/Visual Poetry 330
Fiona McMahon
24 Poems that Count: Procedural Poetry 348
Hélène Aji
25 Modes of Found Poetry 361
Lacy Rumsey
Part II
26 "Horny Morning Mood": The Aubade and Alba 379
Kit Fryatt
27 Nox Consilium and the Dark Night of the Soul: The Nocturne 390
Erik Martiny
28 Heaney, Virgil, and Contemporary Katabasis 404
Rachel Falconer
29 The Aisling 420
Bernard O'Donoghue
30 The Printed Voice 435
Yann Tholoniat
31 Rewriting the People's Newspaper: Trinidadian Calypso after 1956 446
John Thieme
32 Tragicomic Mode in Modern American Poetry: "Awful but Cheerful" 459
Bonnie Costello
33 Parnassus in Pillory: Satirical Verse 478
Todd Nathan Thompson
34 Poetry and Its Occasions: "Undoing the Folded Lie" 490
Stephen Wilson
35 On Verse Letters 505
Philip Coleman
36 "Containing History": Epic Poetry and Revisions of the Genre 521
Alex Runchman
37 T.S. Eliot and the Short Long Poem 532
Jennifer Clarvoe
38 Making War Poetry Contemporary 543
Rainer Emig
39 Bestiary USA: The Modern American Bestiary Poem 555
Jo Gill
40 "From Arcadia to Bunyah": Mutation and Diversity in the Pastoral Mode 568
Karina Williamson
41 Another Green World: Contemporary Garden Poetry 584
Mark Scroggins
42 Scenic, or Topographical, Poetry 598
Stephen Burt
43 Ekphrastic Poetry: In and Out of the Museum 614
Jonathan Ellis
Index 627
See More
Dr Erik Martiny teaches Anglophone literature and film in Aix-en-Provence, France. He has published numerous articles on poets such as Peter Redgrove, Frank O'Hara, Sylvia Plath, Paul Durcan, Thomas Kinsella, Paul Muldoon, Ted Hughes and Derek Walcott. He has also written on the connections between film and fiction, having recently edited a volume of essays entitled Lolita: From Nabokov to Kubrick and Lyne (2009), as well as the book Intertextualité et Filiation Paternelle dans la Poésie Anglophone (2009).
See More
More in this series