E-book
Steel Designers' Manual, 7th Edition
ISBN: 978-1-4443-4485-1
1368 pages
December 2011, Wiley-Blackwell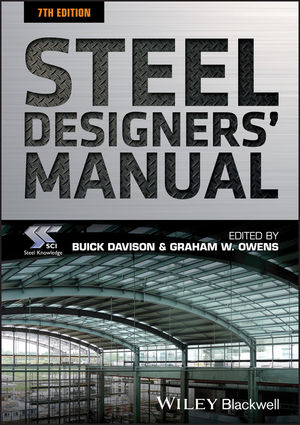 In 2010 the then current European national standards for building and construction were replaced by the EN Eurocodes, a set of pan-European model building codes developed by the European Committee for Standardization. The Eurocodes are a series of 10 European Standards (EN 1990 – EN 1999) that provide a common approach for the design of buildings, other civil engineering works and construction products. The design standards embodied in these Eurocodes will be used for all European public works and are set to become the de-facto standard for the private sector in Europe, with probable adoption in many other countries.
This classic manual on structural steelwork design was first published in 1955, since when it has sold many tens of thousands of copies worldwide. For the seventh edition of the Steel Designers' Manual all chapters have been comprehensively reviewed, revised to ensure they reflect current approaches and best practice, and brought in to compliance with EN 1993: Design of Steel Structures (the so-called Eurocode 3).
See More
Einführung;
Die Eurocodes.
Part 1: Entwurfssynthese.
Teil 2: Stahltechnologie.
Teil 3: Entwurfstheorie.
Teil 4: Bemessung von Bauteilen.
Teil 5: Bemessung von Anschlüssen.
Teil 6: Andere Bauteile.
Teil 7: Ausführung.
Anhänge.
Stichwortverzeichnis.

See More
Das Steel Construction Institute (SCI) ist eine unabhängige Organisation, deren Mitglieder die effektive Nutzung von Stahl im Bauwesen unterstützen, weiterentwickeln und fördern wollen.

Buick Davidson ist Senior Lecture an der Fakultät für Bauingenieurwesen und Tragwerkslehre der University of Sheffield.
Graham Owens war bis vor kurzem Direkter des SCI und ist nun beratend für den SCI tätig.

See More