E-book
Reading R. S. Peters Today: Analysis, Ethics, and the Aims of Education
ISBN: 978-1-4443-4647-3
256 pages
September 2011, Wiley-Blackwell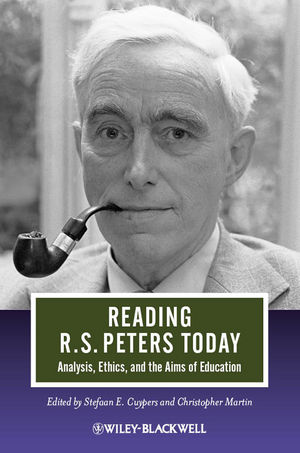 Reading R. S. Peters Today: Analysis, Ethics and the Aims of Education
reassesses British philosopher Richard Stanley Peters' educational writings by examining them against the most recent developments in philosophy and practice.
Critically reassesses R. S. Peters, a philosopher who had a profound influence on a generation of educationalists

Brings clarity to a number of key educational questions

Exposes mainstream, orthodox arguments to sympathetic critical scrutiny
See More
Notes on Contributors vii
Preface xi
Paul Standish
Introduction
Reading R. S. Peters on Education Today
Stefaan E. Cuypers and Christopher Martin 1
I. The Conceptual Analysis of Education and Teaching
1 Was Peters Nearly Right About Education?
Robin Barrow 6
2 Learning Our Concepts
Megan Laverty 24
3 On Education and Initiation
Michael Luntley 38
4 Ritual, Imitation and Education in R. S. Peters
Bryan Warnick 54
5 Transformation and Education: the Voice of the Learner in Peters' Concept of Teaching
Andrea English 72
II. The Justification of Educational Aims and the Curriculum
6 R. S. Peters' Normative Conception of Education and Educational Aims
Michael Katz 94
7 On the Worthwhileness of Theoretical Activities
Michael Hand 106
8 Why General Education? Peters, Hirst and History
John White 119
9 The Good, the Worthwhile and the Obligatory: Practical Reason and Moral Universalism in R. S. Peters' Conception of Education
Christopher Martin 138
10 Overcoming Social Pathologies in Education: On the Concept of Respect in R. S. Peters and Axel Honneth
Krassimir Stojanov 156
III. Aspects of Ethical Development and Moral Education
11 Reason and Virtues: The Paradox of R. S. Peters on Moral Education
Graham Haydon 168
12 Autonomy in R. S. Peters' Educational Theory
Stefaan E. Cuypers 185
IV. Peters in Context
13 Richard Peters and Valuing Authenticity
Mike Degenhardt 205
14 Vision and Elusiveness in Philosophy of Education: R. S. Peters on the Legacy of Michael Oakeshott
Kevin Williams 219
Index 237
See More
Stefaan E. Cuypers
is Professor of Philosophy at the Katholieke Universiteit Leuven, Belgium. Cuypers is the author of
Self-Identity and Personal Autonomy
(2001), co-author of
Moral Responsibility, Authenticity, and Education
(2008), and an invited contributor to
The Oxford Handbook of Philosophy of Education
(2009).
Christopher Martin is Senior Lecturer at Roehampton University, London. While he presently works in philosophy of education, political and moral philosophy, Martin is a former school principal in Canada, where he taught in a number of subject areas such as literature and science, and worked with kindergarten through high school level students.
See More
More in this series