E-book
Agents and Their Actions
ISBN: 978-1-4443-4674-9
152 pages
September 2011, Wiley-Blackwell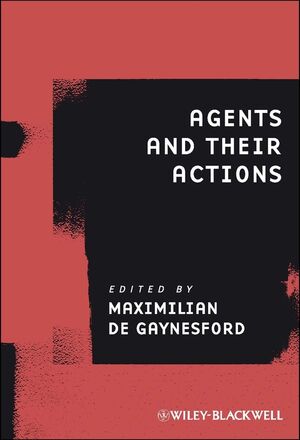 Reflecting a recent flourishing of creative thinking in the field,
Agents and Their Actions
presents seven newly commissioned essays by leading international philosophers that highlight the most recent debates in the philosophy of action
Features seven internationally significant authors, including new work by two of philosophy's 'super stars', John McDowell and Joseph Raz

Presents the first clear indication of how John McDowell is extending his path-breaking work on intentionality and perceptual experience towards an account of action and agency

Covers all the major interconnections between action-agency and central areas of Philosophy: Metaphysics, Epistemology, History of Philosophy, Ethics, Logic, Philosophy of Language

Provides a snapshot of current debate on the subject, which is fresh, enlightening, and fruitful
See More
Notes on Contributors vi
Preface vii
1 Reasons for Action and Practical Reasoning 1
Maria Alvarez
2 Ambivalence and Authentic Agency 20
Laura W. Ekstrom
3 The Road to Larissa 39
John Hyman
4 What is the Content of an Intention in Action? 61
John McDowell
5 Being in the World 79
Joseph Raz
6 Moral Scepticism and Agency: Kant and Korsgaard 99
Robert Stern
7 Speech, Action and Uptake 121
Maximilian de Gaynesford
Index 138
See More
Maximilian de Gaynesford is Professor of Philosophy at the University of Reading. A previous Fellow of Lincoln College Oxford, de Gaynesford is the author of I: The Meaning of the First Person Term (2006), Hilary Putnam (2006), John McDowell (2004), and a number of articles on the philosophy of mind and language, moral philosophy, and aesthetics.
See More
More in this series