E-book
Basic Guide to Orthodontic Dental Nursing
ISBN: 978-1-4443-4827-9
312 pages
June 2011, Wiley-Blackwell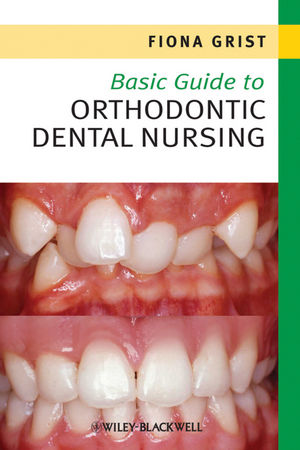 The
Basic Guide to Orthodontic Dental Nursing
is a must-have introduction for those seeking to develop their knowledge and understanding of this core area of clinical practice.
Written in a clear and accessible format, with colour illustration throughout, the book is a guide for all dental nurses with an interest in orthodontics. It is designed to reflect sections of the syllabus of the Certificate in Orthodontic Dental Nursing. Chapters cover such key topics as tooth eruption patterns, removable and fixed appliances, de-bonding, and retention. There are also sections on care prior to treatment, including the requirements for a first appointment, and there is helpful guidance on maintaining motivation – particularly for young patients and their parents.
Published in a compact format for portability and easy reference, this is a valuable addition to the Basic Guides series.
See More
Foreword by Dr Les Joffe (CEO – British Orthodontic Society).
How to use this book.
Acknowledgements.
1 Definition of orthodontics and factors influencing orthodontic treatment.
2 The first appointment.
3 Occlusal indices.
4 Motivation.
5 Leaflets.
6 Oral hygiene.
7 Removable appliances.
8 Transpalatal arches, lingual arches and quad helix.
9 Rapid maxillary expansion.
10 Extra-oral traction and extra-oral anchorage.
11 Functional appliances.
12 Temporary anchorage devices.
13 Fixed appliances – what they do and what is used.
14 Fixed appliances – direct bonding.
15 Fixed appliances – indirect bonding and lingual orthodontics.
16 Ectopic canines.
17 Debonding.
18 Retention and retainers.
19 Aligners.
20 Multi-disciplinary orthodontics.
21 Adult orthodontics.
22 Mandibular advancement devices.
23 Model box storage and study models.
24 Descriptions and photographs of most commonly used instruments and auxiliaries.
25 Certificate in Orthodontic Nursing and extended duties.
26 Orthodontic therapists.
27 Professional groups for orthodontic dental nurses.
Useful contacts.
Glossary of terms.
Index.
See More
"This book is clearly written for the British market; the patient information leaflets issued by the British Orthodontic Society are widely referred to, there is a chapter dedicated to 'orthodontic therapists' and the book refers to the General Dental Council of the United Kingdom and its regulatory framework for dental care professionals (dental technicians, nurses, and therapists)." (European Journal of Orthodontics, 2011)
"This book is all you need to know about assisting in orthodontic care delivery and is an invaluable learning tool and reference for all the orthodontic team ." (British Dental Association, 1 April 2011)
"Grist (senior orthodontic nurse, Worthing Hospital) introduces the tools and procedures for assisting an orthodontist chairside, and outlines what to prepare so that treatment can be undertaken as efficiently as possible." (SciTech Book News, December 2010)
See More