Anthropological Perspectives on Migration and Health
ISBN: 978-1-4443-4988-7
200 pages
December 2010, Wiley-Blackwell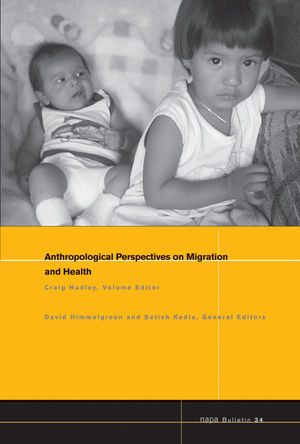 In this volume of the NAPA Bulletin, practicing and applied anthropologists along with colleagues in public health examine the interactions of health and migrations in diverse settings around the world. Contributors draw on diverse theoretical and methodological perspectives to examine the various ways in which migration impacts on the health and well-being of migrants.


See More
The Complex Interactions between Migration and Health: An Introduction (
Craig Hadley).
Im/Migration and Health: Conceptual, Methodological, and Theoretical Propositions for Applied Anthropology (Heide Castañeda).
Acculturation, Socioeconomic Status, and Health among Hispanics (Nurgül Fitzgerald).
Health Care Access among Hispanic Immigrants: ¿Alguien Está Eschuchando? [Is Anybody Listening?] (Rafael Pérez-Escamilla, Jonathan Garcia, and David Song).
A Latino Oral Health Paradox? Using Ethnography to Specify the Biocultural Factors behind Epidemiological Models (Sarah B. Horton and Judith C. Barker).
HPV Awareness among Latina Immigrants and Anglo-American Women in the Southern United States: Cultural Models of Cervical Cancer Risk Factors and Beliefs (John S. Luque, Heide Castañeda, Dinorah Martinez Tyson, Natalia Vargas, Sara Proctor, and Cathy D. Meade).
Savoring the Taste of Home: The Pervasiveness of Lead Poisoning from Ceramic and its Implications for Transnational Care Packages (Ramona L. Pérez, Margaret A. Handley, and James Grieshop).
Child Hunger: Its Prevalence and Association with Body Mass Index and Dietary Intake among Somali Refugee Children in the United States (Jigna M. Dharod and Jamar E. Croom).
Forced Migration: Complexities in Food and Health for Refugees Resettled in the United States (Crystal L. Patil, Molly McGown, Perpetue Djona Nahayo, and Craig Hadley).
What's on the Table: Nutrition Programming for Refugees in the United States (Micah Trapp).
Overcoming Socioeconomic Struggle and Encountering Risk: Lived Experiences of South African Female Migrants (Chitra Akileswaran and Mark Lurie).
Risk Perceptions and Knowledge of Sexually Transmitted Infections (STIs) and HIV among Undocumented Nicaraguan Migrant Women in Costa Rica (Kate Goldade and Mark A. Nichter).
Health, Well-Being, and Social Context of Samoan Migrant Populations (Stephen T. McGarvey and Andrew Seiden Biosketches of Authors).
Biosketches of Authors.
See More
Craig Hadley (Ph.D; University of California, Davis, 2003) is an Assistant Professor in Anthropology at Emory University, specializing in food insecurity, public health nutrition, cultural epidemiology, and related population issues. He has conducted research in Ethiopia, Tanzania, Australia, and the United States. He is currently involved in an NSF-funded study examining the impact of food insecurity and globalization on adolescent health and well-being in Ethiopia and an NSF-funded study on food insecurity among refugees living in the United States.
See More