A History of Greek Art
ISBN: 978-1-4443-5015-9
440 pages
January 2015, Wiley-Blackwell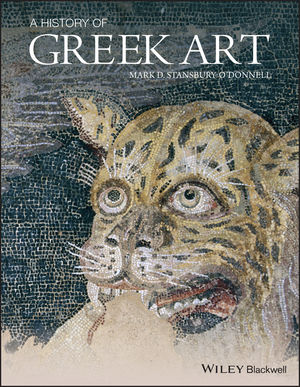 Offering a unique blend of thematic and chronological investigation, this highly illustrated, engaging text explores the rich historical, cultural, and social contexts of 3,000 years of Greek art, from the Bronze Age through the Hellenistic period.
Uniquely intersperses chapters devoted to major periods of Greek art from the Bronze Age through the Hellenistic period, with chapters containing discussions of important contextual themes across all of the periods
Contextual chapters illustrate how a range of factors, such as the urban environment, gender, markets, and cross-cultural contact, influenced the development of art
Chronological chapters survey the appearance and development of key artistic genres and explore how artifacts and architecture of the time reflect these styles
Offers a variety of engaging and informative pedagogical features to help students navigate the subject, such as timelines, theme-based textboxes, key terms defined in margins, and further readings.
Information is presented clearly and contextualized so that it is accessible to students regardless of their prior level of knowledge
Upon publication, a book companion website will be available with the following resources: PowerPoint slides, glossary, and timeline
See More
List of figures
Acknowledgments
Timeline
About the website
Maps
1 Introduction and Issues in the History of Greek Art
2 The Early and Middle Bronze Ages (c. 3100-1600 BCE)
3 The Late Bronze Age II-III (c. 1600-1075 BCE)
4 The Sub-Mycenaean, Protogeometric, & Geometric Periods (c. 1075-700 BCE)
5 Contexts I: Civic, Domestic, and Funerary
6 The Seventh Century (c. 725/700-625/600 BCE)
7 Contexts II: Sanctuaries and Architecture
8 The Sixth Century (c. 625/600-480 BCE)
9 Narrative
10 The Fifth-Century (c. 480-400 BCE)
11 The Production of Greek Art and its Markets; Textbox: Ancient and Modern Values of Art
12 The Fourth Century to c. 330 BCE
13 Identity
14 The Hellenistic Period (c. 330-30 BCE)
15 Epilogue
Glossary
See More
Mark Stansbury-O'Donnell is a Professor of Art History at the University of St. Thomas in St. Paul, Minnesota. He is the author of Pictorial Narrative in Ancient Greek Art (1999), Vase Painting, Gender, and Social Identity in Archaic Athens (2006), and Looking at Greek Art (2011).
See More