Knowledge and Power: The Parliamentary Representation of Universities in Britain and the Empire
ISBN: 978-1-4443-5020-3
208 pages
October 2011, Wiley-Blackwell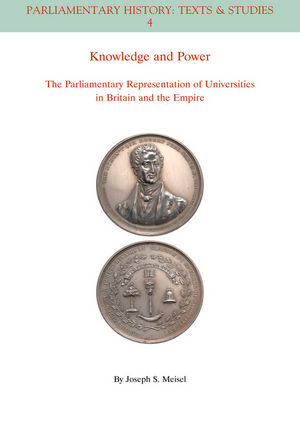 Knowledge and Power: The Parliamentary Representation of Universities and the Empire
presents the first comprehensive account of how universities held seats in Britain's Parliament between the 17th and 20th centuries and how the idea of university representation spread throughout the British Empire.
Represents the first systematic study of a significant but largely neglected institution which was part of the British constitution for 350 years

Sheds new light on the uneven and paradoxical processes of British political modernization

Features a detailed case study of the trans-imperial dissemination and adaptation of British constitutional ideas and practices

Supplemented with detailed appendices on the representation of universities in Britain, Ireland, America, and India
See More
Table of Tables
Acknowledgments
Note on Terminology
Introduction       
1. University Representation in the 17th and 18th Centuries            
2. The Rise and Fall of the University Franchise    
3. Debating University Representation     
4. University Representatives       
5. University Representation in India        
6. Imperial Comparisons               
Conclusion         
Appendices
1. A Timeline of University Representation             
2. Representation of Universities in the English, Irish and United Kingdom Parliaments (by Decade), 1603-1950         
3. University Representatives in the Parliaments of England, Great Britain and the United Kingdom, 1603-1950              
4. Burgesses for the University of Dublin (Trinity College) in the Irish House of Commons, 1613-1800                  
5. Members for the College of William and Mary in the Virginia House of Burgesses, 1700-76       
6. Allocation of Seats under the Government of India Act, 1935, for the Lower House in Each Provincial Legislature            
7. University Members in Indian Provincial Legislative Councils, 1893-1955            
Bibliography      
Index    
See More
Joseph S. Meisel is the Deputy Provost at Brown University. He was previously a program officer for the humanities at The Andrew W. Mellon Foundation. He is author of Public Speech and the Culture of Public Life in the Age of Gladstone (2001) and co-author of the forthcoming Harry Furniss –'The Humours of Parliament': A View of Late Victorian Political Culture.
See More
More in this series