Sediments, Morphology and Sedimentary Processes on Continental Shelves: Advances in technologies, research and applications (Special Publication 44 of the IAS)
ISBN: 978-1-4443-5082-1
440 pages
February 2012, Wiley-Blackwell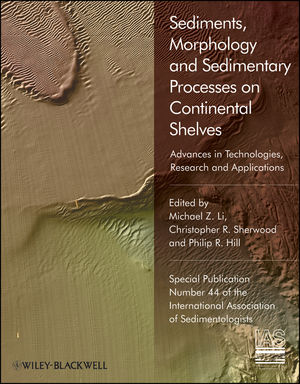 The application of multibeam and sediment transport measurement technologies and the adoption of multi-faceted research methodologies have greatly advanced our understanding of the sedimentary processes on continental shelves in the last decade.
This book uniquely blends cutting-edge research and state-of-the art review articles that take stock of new advances in multibeam mapping and sediment transport technologies, spatial analysis and modelling, and the applications of these advances to the understanding of shelf sediments, morphodynamics, and sedimentary processes. Case studies are also presented to illustrate the utilization of seabed property and process knowledge in habitat mapping and ocean management
With its mix of papers focusing on technological advances, integration of shelf morphology and processes, and the application of these advances to coastal and ocean management, this Special Publication volume will serve as a milestone reference for professional marine scientists and as advanced text for students in marine geology, sedimentology and oceanography.
This book is part of the International Association of Sedimentologists (IAS) Special Publications.
The Special Publications from the IAS are a set of thematic volumes edited by specialists on subjects of central interest to sedimentologists. Papers are reviewed and printed to the same high standards as those published in the journal Sedimentology and several of these volumes have become standard works of reference.
See More
Preface
Part 1: Sediments and morphology in shelf and coastal systems
Optimal use of multibeam technology in the study of shelf morphodynamics
John E. Hughes Clarke
Palaeogeographic reconstruction of Hecate Strait British Columbia: changing sea levels and sedimentary processes reshape a glaciated shelf
J. Vaughn Barrie and Kim W. Conway
Changes in submarine channel morphology and slope sedimentation patterns from repeat multibeam surveys in the Fraser River delta, western Canada
Philip R. Hill
Recent sedimentary processes in the Cap de Creus canyon head and adjacent continental shelf, NE Spain: evidence from multibeam bathymetry, sub-bottom profiles and coring
A. García-García, T. Schoolmeester, D. Orange, A. Calafat, J. Fabres, E. Grossman, M. Field, T. Lorenson, M. Levey and M. Sansoucy
Geology metrics for predicting shoreline change using seabed and sub-bottom observations from the surf zone and nearshore
Jesse E. McNinch and Jennifer L. Miselis
Re-examination of sand ridges on the middle and outer New Jersey shelf based on combined analysis of multibeam bathymetry and backscatter, seafloor grab samples and chirp seismic data
John A. Goff and Catherine S. Duncan
Sedimentary facies of shoreface-connected sand ridges off the East Frisian barrier-island coast, southern North Sea: climatic controls and preservation potential
Chang Soo Son, Burghard W. Flemming and Tae Soo Chang
Part 2: Sediment transport processes, sedimentation and modelling
Recent advances in understanding continental shelf sediment transport
L.D. Wright
Recent advances in instrumentation used to study sediment transport
Jon J. Williams
Seabed disturbance and bedform distribution and mobility on the storm-dominated Sable Island Bank, Scotian Shelf
Michael Z. Li, Edward L. King and Robert H. Prescott
Temporal variability, migration rates and preservation potential of subaqueous dune fields generated in the Agulhas Current on the southeast African continental shelf
Burghard W. Flemming and Alexander Bartholomä
Measurement of bedload transport in a coastal sea using repeat swath bathymetry surveys: assessing bedload formulae using sand dune migration
Garret P. Duffy and John E. Hughes-Clarke
Analyzing bedforms mapped using multibeam sonar to determine regional bedload sediment transport patterns in the San Francisco Bay coastal system
Patrick L. Barnard, Li Erikson, David M. Rubin, Pete Dartnell and Rikk G. Kvitek
Sediment transport on continental shelves: storm bed formation and preservation in heterogeneous sediments
T. R. Keen, R. L. Slingerland, S. J. Bentley, Y. Furukawa, W. J. Teague and J. D. Dykes
Tidal influence on the transport of suspended matter in the southwestern Yellow Sea at 6 ka
Katsuto Uehara and Yoshiki Saito
Origin, transport processes and distribution pattern of modern sediments in the Yellow Sea
Xuefa Shi, Yanguang Liu, Zhihua Chen, Jianwei Wei, Sulan Ge, Kunshan Wang, Guoqing Wang, Shouye Yang, Shuqing Qiao, Deling Cai, Zhenbo Cheng, Wenrui Bu and Hi-Ii Yi
Seasonal and spatial variation in suspended sediment characteristics off the Changjiang estuary
Guoqing Wang, Xuefa Shi, Yanguang Liu, Xisheng Fang and Gang Yang
Factors controlling downward fluxes of particulate matter in glacier-contact and non-glacier contact settings in a subpolar fjord (Billefjorden, Svalbard)
Witold Szczuciński and Marek Zajączkowski
Part 3: Application and management
On seabed disturbance, marine ecological succession and applications for environmental management: a physical sedimentological perspective
Peter T. Harris
Benthic habitat mapping from seabed acoustic surveys: do implicit assumptions hold?
Vladimir E. Kostylev
List of Reviewers
Index
See More
Michael Li
is a research scientist at the Atlantic branch of the Geological Survey of Canada. After obtaining degrees from Ocean University of China and Oregon State University, Michael has worked in and published on the coastal and shelf systems of China, United States, and Canada. His current research interests include boundary layer dynamics and sediment transport processes through in situ measurements of instrumented seabed landers, offshore geohazards and mobility of large-scale bedforms through multibeam and sidescan surveys and sampling, physical and numerical models of hydrodynamics and sediment transport processes on continental shelves and in coastal environments.
Chris Sherwood is a research oceanographer with the U. S. Geologcal Survey and works at the Woods Hole Coastal and Marine Science Center. Dr. Sherwood studied at Bowdoin College and the University of Washington. Before joining the USGS, he worked for the marine research division of the Commonwealth Scientific and Industry Research Organisation in Hobart, Australia. His research is focused on development of open-source models for sediment transport in coastal ocean environment, and on field measurements to evaluate the models.
Phil Hill is a research scientist with the Geological Suvey of Canada.  Since graduating with degrees from the University of Oxford and Dalhousie University, he has practiced marine geology in government, universities and the private sector.  He has published on marine geology and sedimentology all around Canada, including the east and west coasts, the Beaufort Sea and Hudson Bay.

See More
More in this series