Economic Policy 71
ISBN: 978-1-4443-5098-2
152 pages
November 2012, Wiley-Blackwell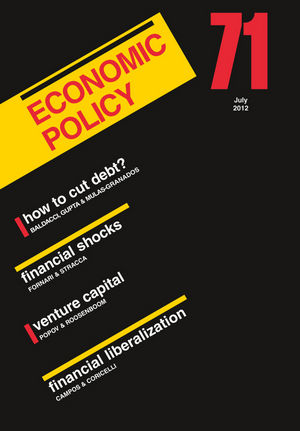 Top economists provide a concise and accessible evaluation of major developments in trade and trade policy.
Economic Policy has earned a reputation around the world as the one publication that always identifies current and emerging policy topics early
Papers are specially commissioned from first-class economists and experts in the policy field
The editors are all based at top European economic institutions and each paper is discussed by a panel of distinguished economists
This unique approach guarantees incisive debate and alternative interpretations of the evidence
See More
Editors' Introduction
1. Reassessing the fiscal mix for successful debt reduction (Emanuele Baldacci, Sanjeev Gupta and Carlos Mulas-Granados)
2. What does a financial shock do? First international evidence (Fabio Fornari and Livio Stracca)
3. Venture capital and patented innovation: evidence from Europe (Alexander Popov and Peter Roosenboom)
4. Financial liberalization and reversals: political and economic determinants (Nauro F. Campos and Fabrizio Coricelli)
See More
The Managing Editors of

Economic Policy

:



Tullio Jappelli

is CSEF Director and Professor of Economics at the University of Naples Federico II.

Philip Lane is Professor of International Macroeconomics at Trinity College Dublin.

Philippe Martin is Professor at the Université Paris-1 Panthéon Sorbonne and CERASENPC and a Research Fellow at CEPR.

Jan van Ours is Professor of Economics at Tilburg University and Professorial Fellow at Melbourne University.

The Senior Editors of

Economic Policy

:

Georges de Menil works at the Delta Ens, France.

Richard Portes lectures in the Department of Economics, London Business School.

Hans-Werner Sinn is based at the Centre for Economic Studies, University of Munich.
See More
More in this series