Antiquity: Greeks and Romans in Context
ISBN: 978-1-4443-5138-5
464 pages
January 2014, Wiley-Blackwell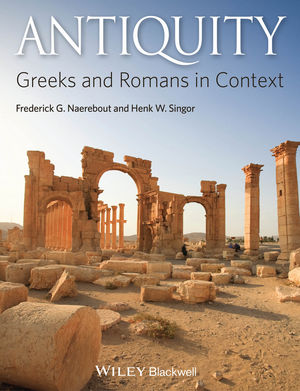 Antiquity: Greeks and Romans in Context provides a chronological introduction to the history of ancient Mediterranean civilizations within the larger context of its contemporary Eurasian world.
Innovative approach organizes Greek and Roman history into a single chronology
Combines the traditional historical story with subjects that are central to modern research into the ancient world including a range of social, cultural, and political topics
Facilitates an understanding of the ancient Mediterranean world as a unity, just as the Mediterranean world is in its turn presented as part of a larger whole
Covers the entire ancient Mediterranean world from pre-history through to the rise of Islam in the seventh century A.D.
Features a diverse collection of images, maps, diagrams, tables, and a chronological chart to aid comprehension
English translation of a well-known Dutch book, De oudheid, now in its third edition
See More
List of Figures ix
List of Maps xi
Preface xiii
Part I Introduction 1
1.1 Sources and Chronology 3

Sources 3

Chronology 7
1.2 The Ecology of History 11

Physical Geography 11

Agriculture and the Pre-Industrial Economy 13

Demography 20
Part II Before 900 BC 25
2.1 Prehistory 27

Paleolithic 27

Neolithic 32
2.2 Early Civilizations in Eurasia 36

The Rise of Distinct Civilizations 36

Peoples and Languages 41

Western Asia and Egypt in the Bronze Age 45

The Aegean and Southern Europe in the Bronze Age 52
Part III 900–500 BC 59
3.1 A Historical Outline 61

Eurasian Communities 61

The Greek World 71

Italy and Western Europe 86
3.2 The Social Fabric 93

Economic Life 93

Social Hierarchy 97

Political Organization 102
3.3 Daily Life and Mentality 109

The Individual and Society 109

Men and Women 113

Religion, Philosophy, and Scholarship 117
Part IV 500–300 BC 129
4.1 A Historical Outline 131

Eurasian Communities 131

The Greek World 139

Italy and the West 149
4.2 The Social Fabric 152

Economic Life 152

Social Hierarchy 159

Political Organization 163
4.3 Daily Life and Mentality 169

The Individual and Society 169

Men and Women 175

Religion, Philosophy, and Scholarship 178
Part V 300 BC–1 AD 189
5.1 A Historical Outline 191

Eurasian Communities 191

The Greek World 200

Italy and the West 221
5.2 The Social Fabric 241

Economic Life 241

The Social Hierarchy 252

Political Organization 262
5.3 Daily Life and Mentality 269

The Individual and Society 269

Men and Women 277

Religion, Philosophy, and Scholarship 279
Part VI 1 AD–500 AD 291
6.1 A Historical Outline 293

Eurasian Communities 293

The Roman Empire 298

The Greek East and the Latin West 308
6.2 The Social Fabric 314

Economic Life 314

Social Hierarchy 321

Political Organization 327
6.3 Daily Life and Mentality 333

The Individual and Society 333

Men and Women 341

Religion, Philosophy, and Scholarship 343
Part VII After 500 AD 367
7 The 6th Century and Later 369

Eurasian Communities 369

The Byzantine East 378

The Christian Church 382

Islam 387

The Ancient Heritage 390
Appendices 395

Classical Athens 396

The Classical Roman Republic 397

Imperial Rome: The Principate 398

Imperial Rome: The Dominate 399

Hellenistic Rulers 400

Roman Emperors 402

Philosophers 403

Scholars and Scientists 405

Poets and Prose Writers 407

Christian Authors 409
CHRONOLOGY 411
Suggestions for Further Reading 419
Index 433
See More
Frederick G. Naerebout is Senior Lecturer at the Department of Ancient History of Leiden University. He is the author of Attractive Performances: Ancient Greek Dance; three preliminary studies (1997).
Henk W. Singor was until his retirement in 2012 Associate Professor of Ancient History the Department of Ancient History at Leiden University.
See More