E-book
Early Contractor Involvement in Building Procurement: Contracts, Partnering and Project Management
ISBN: 978-1-4443-5584-0
Wiley E-Text
328 pages
March 2012
US $125.00

Purchase This E-book and Learn More
This price is valid for United States. Change location to view local pricing and availability.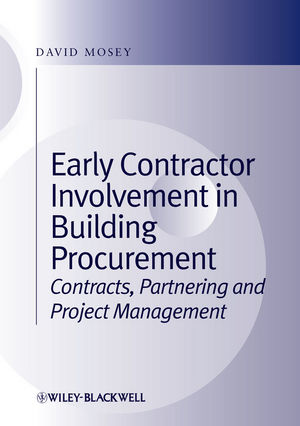 Introduction – Who Remembers Mott the Hoople?
Chapter 1 Early Contractor Involvement – An Overview.
1.1 Early contractor involvement – why bother?
1.2 Early contractor involvement and project pricing.
1.3 Early contractor involvement and risk transfer.
1.4 Early contractor involvement and payment.
1.5 The role of building contracts.
1.6 The limits of construction phase building contracts.
1.7 Contractor contributions to design, pricing and risk management.
1.8 The client, communications and project programmes.
1.9 But do you need an early building contract?
1.10 Preconstruction commitments under framework agreements.
1.11 The infl uence of project managers and project partnering.
1.12 So what is stopping us?
1.13 Government and industry support.
Chapter 2 Conditional Contracts and Early Project Processes.
2.1 The conditional preconstruction phase agreement.
2.2 Recognised categories of contract.
2.3 Effect of the number of parties.
2.4 The planning function of contracts.
2.5 Choices and contractual conditionality.
2.6 Limited effi ciency caused by unknown items.
2.7 Risk and fear of opportunism.
2.8 Conditional relationships without full consideration.
2.9 Need for long-term relations.
2.10 Alignment of different interests.
2.11 Preconstruction phase agreements as project management tools.
2.12 Contracts and new procurement systems.
Chapter 3 Problems and Disputes Under Construction Phase Building Contracts.
3.1 Introduction.
3.2 The role of standard form building contracts.
3.3 Standard forms and the assumption of complete information.
3.4 Origins of standard forms and lack of trust.
3.5 Criticisms of effectiveness of standard forms.
3.6 Causes of claims.
3.7 Links between claims and preconstruction phase activities.
3.8 Links between claims and building contracts.
3.9 New procurement procedures or gambling on incomplete information.
Chapter 4 Early Contractor Involvement in Design, Pricing and Risk Management.
4.1 Introduction.
4.2 Preconstruction design processes.
4.3 Preconstruction pricing processes.
4.4 Preconstruction risk management processes.
4.5 Preconstruction subcontractor appointments.
4.6 Perceived benefi ts of early contractor appointments.
4.7 Early contractor appointments and sustainability.
Chapter 5 Client Leadership, Communication Systems and Binding Programmes 95
5.1 Introduction.
5.2 The role of the client.
5.3 The role of communication systems.
5.4 The role of binding programmes.
Chapter 6 Contractual and Non-contractual Preconstruction Options.
6.1 Introduction.
6.2 Building contract options.
6.3 Letters of intent.
6.4 Non-binding arrangements.
6.5 Benefi ts of contractual clarity.
Chapter 7 Preconstruction Commitments Under Framework Agreements.
7.1 Commercial attraction of frameworks.
7.2 The relationship between frameworks and partnering.
7.3 Frameworks and preconstruction phase processes.
7.4 Published forms of framework agreement.
7.5 Frameworks and the Private Finance Initiative.
7.6 The impact of frameworks on changing behaviour.
Chapter 8 Project Management and Project Partnering.
8.1 Introduction.
8.2 Preconstruction phase agreements and project management.
8.3 Preconstruction phase agreements and partnering.
Chapter 9 Obstacles to Early Contractor Appointments.
9.1 Introduction.
9.2 Project-specifi c obstacles.
9.3 Procedural obstacles.
9.4 Personal obstacles.
9.5 Education and training.
9.6 The role of the partnering adviser.
Chapter 10 Government and Industry Views and Experience.
10.1 Introduction.
10.2 Importance of government and construction industry support.
10.3 Support for contractor and subcontractor design contributions.
10.4 Support for two-stage pricing.
10.5 Support for selecting contractors by value.
10.6 Support for joint risk management.
10.7 Support for greater client involvement.
10.8 Government and industry views on partnering.
10.9 Government views on preconstruction phase agreements.
10.10 Industry experience of preconstruction phase agreements.
10.11 Preconstruction phase agreements in an economic downturn.
Chapter 11 Conclusions – the Golden Age Of Rock 'n' Roll?
11.1 Functions of building contracts and their potential to govern project processes.
11.2 The assumption in standard form building contracts of complete project information and consequent problems and disputes.
11.3 Preconstruction phase processes that can be improved by early contractor appointments.
11.4 The role of the client, communication and programming of preconstruction phase processes.
11.5 Contractual and non-contractual options to govern preconstruction phase processes.
11.6 Increased preconstruction commitments under framework agreements.
11.7 The relationship of preconstruction phase agreements to project management and partnering.
11.8 Circumstances and attitudes that are obstacles to early contractor appointments or to preconstruction phase agreements.
11.9 Government and industry support for early contractor appointments under preconstruction phase agreements.
Appendix A Project Case Studies.
Use of Preconstruction Phase Agreements on Single Projects.
Use of Preconstruction Phase Agreements on Multi-project Frameworks.
Appendix B Preconstruction Phase Processes Under Standard Form Building Contracts.
1 Introduction.
2 Design development.
3 Two-stage pricing.
4 Risk management.
5 Communications.
6 Programmes.
7 Team integration.
Appendix C Preconstruction Phase Processes Under Standard Form Framework Agreements.
Introduction.
JCT Framework Agreements.
NEC3 Framework Contract.
Appendix D Form of Risk Register.
Appendix E Form of Partnering Timetable.
Appendix F Association of Partnering Advisers Code of Conduct.
Appendix G Bibliography.
Part 1 Contract forms.
Part 2 Articles and books .
Part 3 Government/industry reports .
Part 4 Table of cases.
Index.