E-book
Understanding Intracardiac EGMs and ECGs
ISBN: 978-1-4443-6069-1
232 pages
August 2011, Wiley-Blackwell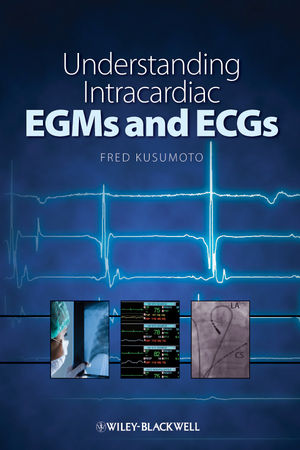 This practical "how-to" manual for interpreting electrograms and understanding how they relate to the more easily understood/obtained electrocardiogram (ECG) is designed to be used in electrophysiology laboratories and during preparation for certification tests. Clear enough to be understood by the novice, this inexpensive paperback is suitable for use by nurses and cardiovascular technicians working in the electrophysiology laboratory, as well as physicians who are interested in practical aspects of electrophysiology. Written by an award-winning teacher, it offers short, succinct chapters with bullet-point summaries and review questions to aid retention.
See More
Preface, vii
Part 1 Electrophysiology Concepts.
1 Procedural issues for electrophysiologic studies: vascular access, cardiac chamber access, and catheters, 3
2 Fluoroscopic anatomy and electrophysiologic recording in the heart, 15
3 Programmed stimulation, 29
4 Bradycardia, 51
5 Supraventricular tachycardia, 60
6 Wide complex tachycardia, 86
7 New technology, 94
8 Power sources for ablation, 99
Part 2 Specific Arrhythmias.
9 Accessory pathways, 107
10 AV node reentry, 132
11 Focal atrial tachycardia, 148
12 Atrial flutter, 161
13 Atrial fibrillation, 182
14 Ventricular tachycardia, 189
15 Implantable cardiac devices: ECGs and electrograms, 211
Index, 220
See More
Dr. Fred Kusumoto is a Consultant in the Division of Cardiovascular Diseases, and Associate Professor of Medicine, Mayo Clinic College of Medicine. He is currently Director of the Electrophysiology and Pacing Section at Mayo Clinic, Jacksonville, Florida. He has been involved in teaching and research and received the Excellence in Training in the Discipline of Cardiovascular Diseases two years in a row at Mayo Clinic and also named Teacher of the Year at the University of New Mexico. He has written two books on cardiac devices and cardiac pathophysiology and has authored over fifty journal articles and book chapters.
See More