Marriage Restriction Amendments and the Same-Sex Marriage Debate: The Social, Psychological, and Policy Implications
ISBN: 978-1-4443-6144-5
200 pages
June 2011, Wiley-Blackwell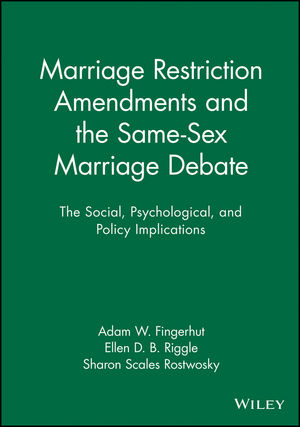 This issue is an international, interdisciplinary, methodologically and theoretically diverse collection of original empirical articles addressing psychological effects of marriage amendments, effects of civil marriage for same-sex couples, and effects of anti-gay initiatives on heterosexual allies and intergroup relationships.
See More
SECTION I: INTRODUCTION
Same-Sex Marriage: The Social and Psychological Implications of Policy and Debates
Adam W. Fingerhut, Ellen D. B. Riggle, and Sharon Scales Rostosky
SECTION II: THE PSYCHOLOGICAL IMPACTS OF MARRIAGE RESTRICTION AMENDMENTS FOR LGB INDIVIDUALS
California's Ban on Same-Sex Marriage: The Campaign and its Effects on Gay, Lesbian, and Bisexual Individuals
Natalya C. Maisel and Adam W. Fingerhut
Examining Communication about Marriage Amendments: Same-Sex Couples and Their Extended Social Networks
Pamela J. Lannutti
Similarities and Differences in the Pursuit of Intimacy among Sexual Minority and Heterosexual Individuals: A Personal Projects Analysis
David M. Frost
SECTION III: THE IMPACT OF LEGALIZED RELATIONSHIP STATUS FOR SAME-SEX COUPLES
The Longest "Legal" U.S. Same-Sex Couples Reflect on Their Relationships
Esther D. Rothblum, Kimberly F. Balsam, and Sondra E. Solomon
Social Inclusion and the Value of Marriage Equality in Massachusetts and the Netherlands
M. V. Lee Badgett
Are Same-Sex Marriages UnAfrican? Same-Sex Relationships and Belonging in Post-Apartheid South Africa
Mikki van Zyl
SECTION IV: MARRIAGE RESTRICTION AMENDMENTS AND THEIR IMPACT ON HETEROSEXUAL ALLIES AND INTERGROUP RELATIONSHIPS
Impact of Marriage Restriction Amendments on Family Members of Lesbian, Gay, and Bisexual Individuals: A Mixed-Method Approach
Sharon G. Horne, Sharon Scales Rostosky, and Ellen D. B. Riggle
Motives of Heterosexual Allies in Collective Action for Equality
Glenda M. Russell
Comparing Sexual and Ethnic Minority Perspectives on Same-Sex Marriage
Negin Ghavami and Kerri L. Johnson
SECTION V: COMMENTARY
Anti-Equality Marriage Amendments and Sexual Stigma
Gregory M. Herek
SECTION VI: 2009 KURT LEWIN AWARD
2009 Kurt Lewin Award recipient: Beatrice Wright
Kay Deaux, Henry McCarthy, and Sheryl Lee Wurl
See More
Dr. Adam Fingerhut
is an Assistant Professor in the Department of Psychology at Loyola Marymount University. He earned his Ph.D. in Social Psychology from UCLA in 2007. His research addresses two broad questions: 1) How are minority group members affected by their minority identity and social status?; and 2) What factors affect how majority group members perceive and interact with individuals from minority social groups?
Dr. Ellen Riggle is Professor in the Departments of  Gender and Women's Studies and Political Science at the University of Kentucky. She earned her Ph.D. (1990) in Political Science from the University of Illinois (Champaign-Urbana). Her current research focuses on the impact of legal status issues on same-sex couples and LGBT individuals and she is co-founder (with Sharon Rostosky) of PrismResearch.org.
Dr. Sharon Scales Rostosky is Professor in the Department of Educational, School, and Counseling Psychology at the University of Kentucky and a Licensed Psychologist in the Commonwealth of Kentucky.  She earned her Ph.D. in Counseling Psychology from the University of Tennessee in 1998. Her research program focuses on the health and well-being of GLBT individuals, same-sex couples and their families.
See More
Buy Both and Save 25%!
Marriage Restriction Amendments and the Same-Sex Marriage Debate: The Social, Psychological, and Policy Implications (US $47.95)
-and- Sociology For Dummies (US $19.99)
Total List Price: US $67.94
Discounted Price: US $50.95 (Save: US $16.99)
Cannot be combined with any other offers. Learn more.