Locus Amoenus: Gardens and Horticulture in the Renaissance
ISBN: 978-1-4443-6151-3
210 pages
March 2012, Wiley-Blackwell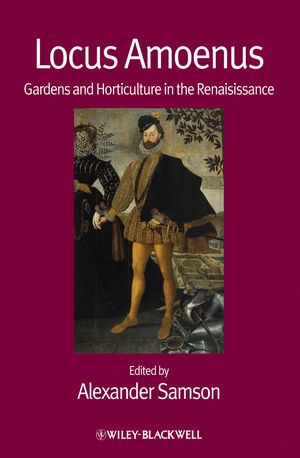 Locus Amoenus
provides a pioneering collection of new perspectives on Renaissance garden history, and the impact of its development. Experts in the field illustrate the extent of our knowledge of how the natural world looked and how humans related to their environment.
A ground-breaking collection of new perspectives on garden history
Essays demonstrate the extent of our knowledge of how the natural world looked and how humans related to their environment
The book's broad coverage includes botany and herbals, literary reflections of changing ideas of landscape and nature, and human's place within it
Contributors come from a wide range of experts, including archaeologists, scholars and the librarian and archivist to the Royal Horticultural Society
Reflects the growing emergence of this field, which has been assisted both by archaeology and ideas from green studies and environmental criticism
Richly illustrated throughout
See More
Notes on contributors ix
Introduction Locus amoenus: gardens and horticulture in the Renaissance
Alexander Samson 1
1 The world of the Renaissance herbal
Brent Elliott 24
2 Clinging to the past: medievalism in the English 'Renaissance' garden
Paula Henderson 42
3 River gods: personifying nature in sixteenth-century Italy
Claudia Lazzaro 70
4 Dissembling his art: 'Gascoigne's Gardnings'
Susan C. Staub 95
5 'My innocent diversion of gardening': Mary Somerset's plants
Jennifer Munroe 111
6 Outdoor pursuits: Spanish gardens, the huerto and Lope de Vega's Novelas a Marcia Leonarda
Alexander Samson 124
7 Experiencing the past: the archaeology of some Renaissance gardens
Brian Dix 151
Index 183
See More
Alexander Samson lectures on early modern Spain and Latin America at University College London. He is also the co-director of the Centre for Early Modern Exchanges. His research interests include Anglo-Spanish intercultural exchange, the marriage of Philip II and Mary Tudor, and the Golden Age comedia. He is the editor of The Spanish Match: Prince Charles's Journey to Madrid, 1623 (2006) and A Companion to Lope de Vega (with Jonathan Thacker, 2008).
See More
More in this series