Material Worlds: Intersections of Law, Science, Technology, and Society
ISBN: 978-1-4443-6152-0
188 pages
March 2012, Wiley-Blackwell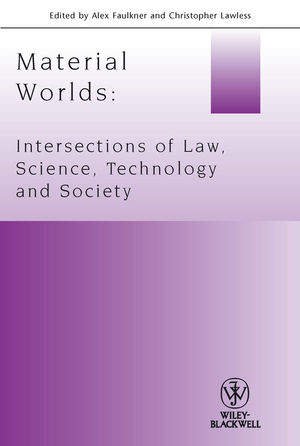 A study of the existing and future research on the intersections between law and materiality, leading to the illumination of both.
A theoretically innovative book exploring the intersections between law and materiality

Offers new perspectives on a variety of high profile controversial subjects, including climate change, public health, genetics, crime, biomedical technology

Investigates the futures of both the sociology of law and the study of science and technology from a novel, interdisciplinary vantage point

Illustrates a wide range of empirical topics to provide a focus for critical reflection on the nature of cross-disciplinary research

Illuminates relationships between transnational regulation and local practices and the relation between social agency and material worlds
See More
Introduction: Material Worlds: Intersections of Law, Science, Technology, and Society (Alex Faulkner, Bettina Lange and Christopher Lawless)
1. The Pragmatic Sanction of Materials: Notes for an Ethnography of Legal Substances (Javier Lezaun)
2. The Regulation of Nicotine in the United Kingdom: How Nicotine Gum Came to Be a Medicine, but Not a Drug (Catriona Rooke, Emilie Cloatre and Robert Dingwall)
3. The Donor-conceived Child's 'Right to Personal Identity': The Public Debate on Donor Anonymity in the United Kingdom (Ilke Turkmendag)
4. A Socio-legal Analysis of an Actor-world: The Case of Carbon Trading and the Clean Development Mechanism (Emilie Cloatre and Nick Wright)
5. Nanotechnology and the Products of Inherited Regulation (Elen Stokes)
6. The Emergence of Biobanks in the Legal Landscape: Towards a New Model of Governance (Emmanuelle Rial-Sebbag and Anne Cambon-Thomsen)
7. The Legal Landscape for Advanced Therapies: Material and Institutional Implementation of European Union Rules in France and the United Kingdom (Aurélie Mahalatchimy, Emmanuelle Rial-Sebbag, Virginie Tournay and Alex Faulkner)
8. Bodies of Science and Law: Forensic DNA Profiling, Biological Bodies, and Biopower (Victor Toom)
9. The Materiality of What? (Alain Pottage)
See More
Christopher Lawless
is a sociologist with a background in biochemical sciences. His research interests include the sociological study of science and technology, transport security and safety, and forensic science.
Alex Faulkner is a sociologist of biomedicine, medical technology and healthcare. He has published extensively on innovation and regulation of new medical technologies and is currently studying the governance of adoption of innovative medical technologies in healthcare systems.
See More
More in this series