HIV / AIDS and Food Insecurity in sub-Saharan Africa: Challenges and Solutions
ISBN: 978-1-4443-6155-1
244 pages
September 2011, Wiley-Blackwell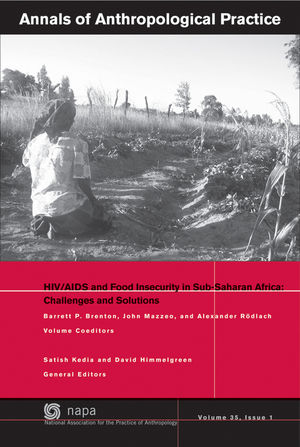 This collection of 14 chapters brings together a wide array of applied anthropologists, other social scientists, and practitioners to detail the ways in which public health measures can be effectively integrated with HIV/AIDS prevention, anti-retroviral treatment, and food security efforts in sub-Saharan Africa.
See More
1. Introduction: Anthropologists Confront HIV/AIDS and Food Insecurity in sub-Saharan Africa
John Mazzeo, Alexander Rödlach, and Barrett P. Brenton
2. Toward a Critical Biosocial Model of Ecohealth in Southern Africa: The HIV/AIDS and Nutrition Insecurity Syndemic
Merrill Singer
3.  Food Insecurity and Maternal-to-Child Transmission of HIV and AIDS in sub-Saharan Africa
Daniel W. Sellen and Craig Hadley
4. Safe Infant Feeding in Lesotho in the Era of HIV/AIDS
Lena Kroeker and Alyx Beckwith
5. "If I Take My Pills I'll Go Hungry": The Choice between Economic Security and HIV/AIDS Treatment in Grahamstown, South Africa
Chaunetta Jones
6. Poverty, Nutrition, and a Cultural Model of Managing HIV/AIDS among Women in Nairobi, Kenya
Toni J. Copeland
7. Cycles of Poverty, Food Insecurity, and Psychosocial Stress among AIDS-Care Volunteers in Urban Ethiopia
Kenneth Maes and Selamawit Shifferaw
8. Complexities of the "Transactional Sex" Model: Nonproviding Men, Self-Providing Women, and HIV Risk in Rural Malawi
Janneke Verheijen
9. Livelihood Demands and the Spread of Aids: The case of Malawi
Mike Njalayawo Mtika
10. "Twelve Years on": HIV and AIDS and Livelihoods in Zambia
Fiona Samuels and Michael Drinkwater
11. The Double Threat of HIV/AIDS and Drought on Rural Household Food Security in Southeastern Zimbabwe
John Mazzeo
12. Contested Strategies for Defining and Confronting Food Insecurity and HIV/AIDS in Zambia: Rejection of GM Food Aid during the 2002–03 Food Crisis
Barrett P. Brenton
13. Food, Health, Development, and HIV/AIDS in a Remote Area of Southern Africa
Robert K. Hitchcock and Wayne A. Babchuk
14. "Aids is in the Food": Zimbabweans' Association between Nutrition and HIV/AIDS and their Potential for Addressing Food Insecurity and HIV/AIDS
Alexander Rödlach
See More
Barrett P. Brenton is an associate professor of anthropology and associate director of the Center for Global Development at St. John's University in New York. As a nutritional anthropologist he has conducted fieldwork in Peru, Ecuador, Kenya, Zambia, South Africa, and in Native American communities across the U.S.  His research interests include the paradox of childhood hunger and obesity, HIV/AIDS and food insecurity, and food policy related to the use of genetically modified organisms in sub-Saharan Africa. For nearly 10 years he was co-editor of the international journal Ecology of Food and Nutrition.
John Mazzeo is an assistant professor of anthropology and is affiliated with the Masters in Public Health Program at DePaul University.  His research interests include livelihood systems, food security, health and HIV/AIDS and he has conducted fieldwork in Zimbabwe, Haiti and the Bahamas.  He work in Zimbabwe, between 2004 and 2006, examined the coping strategies of rural households to the HIV/AIDS epidemic.
Alexander Rödlach is an assistant professor in anthropology and psychiatry at Creighton University in Omaha. He studies how cultural understandings of diseases, particularly HIV/AIDS in Zimbabwe, shape perceptions of and access to health services. Further, he explores the health needs of migrants and refugees, especially Guatemalan Mayans living in Omaha. In addition, he assists a non-profit organization assessing the long-term impact of their services provided to refugees. He is the author of "Witches, Westerners, and HIV." His most recent publication is "Religious Institutions and Volunteering to Provide Care to People Living with HIV and AIDS in Zimbabwe."
See More