E-book
The Times They Are Changing?: Crisis and the Welfare State
ISBN: 978-1-4443-6234-3
2600 pages
January 2012, Wiley-Blackwell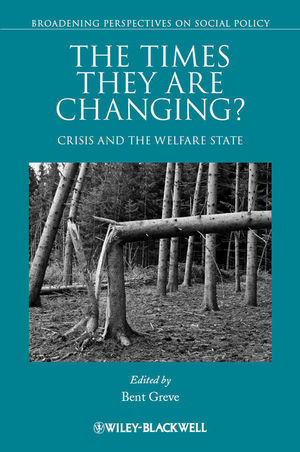 The Times They Are Changing? Crisis and the Welfare State
presents a series of readings from international policy researchers that examine the effects of the recent financial crisis on welfare states around the world.
See More
Editorial Introduction: Overview and Conclusion 1
Bent Greve
1 To What Extent Did the Financial Crisis Intensify the Pressure to Reform the Welfare State? 7
Barbara Vis, Kees van Kersbergen and Thomas H. Hylands
2 Falling Back on Old Habits? A Comparison of the Social and Unemployment Crisis Reactive Policy Strategies in Germany, the UK and Sweden 23
Heejung Chung and Stefan Thewissen
3 The Impact of the Crisis on Australian Social Security Policy in Historical Perspective 41
Peter Saunders and Chris Deeming
4 US Social Policy in the 21st Century: The Difficulties of Comprehensive Social Reform 59
Anne Daguerre
5 Economic Crisis and Welfare Retrenchment: Comparing Irish Policy Responses in the 1970s and 1980s with the Present 79
Fiona Dukelow
6 Crisis and Welfare State Change in the Netherlands 101
Mara Yerkes and Romke van der Veen
7 Explaining Welfare Reforms in Italy between Economy and Politics: External Constraints and Endogenous Dynamics 117
Franca Maino and Stefano Neri
8 The Economic Crisis as a Trigger of Convergence? Short-time Work in Italy, Germany and Austria 137
Stefano Sacchi, Federico Pancaldi and Claudia Arisi
9 Health Care Policy for Better or for Worse? Examining NHS Reforms During Times of Economic Crisis versus Relative Stability 161
Lorraine Frisina Doetter and Ralf Götze
Index 179
See More
Bent Greve is Professor in Social Science with an emphasis on Welfare State Analysis at Roskilde University, Denmark. He is the regional and special issues editor of the journal Social Policy & Administration and has published extensively on social and labour market policy, social security, tax expenditures, public sector expenditures and financing of the welfare state.
See More
More in this series