E-book
A Companion to Greek and Roman Historiography
ISBN: 978-1-4443-9382-8
E-book
752 pages
December 2010, Wiley-Blackwell
US $41.99

Purchase This E-book
This price is valid for United States. Change location to view local pricing and availability.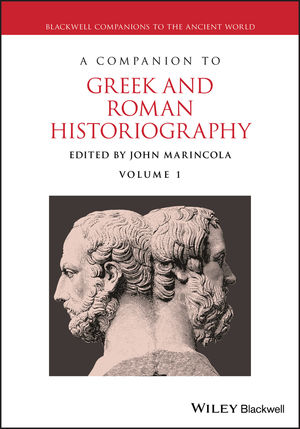 Adobe e-books are read using Adobe Digital Editions. Install Adobe Digital Editions on your PC in order to read or transfer your e-book.
Notes on Contributors.
Preface.
Acknowledgments.
Ancient Authors: Abbreviations.
Reference Works: Abbreviations.
Introduction (John Marincola).
PART I Contexts.
1 The Place of History in the Ancient World (Roberto Nicolai).
2 The Origin of Greek Historiography (Catherine Darbo-Peschanski).
3 History and Historia: Inquiry in the Greek Historians (Guido Schepens)
4 Documents and the Greek Historians (P. J. Rhodes).
5 The Prehistory of Roman Historiography (T. P. Wiseman).
6 Myth and Historiography (Suzanne Saïd).
7 The Construction of Meaning in the First Three Historians (Carolyn Dewald).
8 Characterization in Ancient Historiography (L. V. Pitcher).
9 Speeches in Classical Historiography (John Marincola).
10 Readers and Reception: A Text Case (A. J. Woodman).
PART II Surveys.
11 The Development of the War Monograph (Tim Rood).
12 Continuous Histories (Hellenica) (Christopher Tuplin).
13 Universal History from Ephorus to Diodorus (John Marincola).
14 Local History and Atthidography (Phillip Harding).
15 Western Greek Historiography (Riccardo Vattuone).
16 Greek Historians of Persia (Dominique Lenfant).
17 The Historians of Alexander the Great (Andrea Zambrini).
18 Greek Historians of the Near East: Clio's ''Other'' Sons (John Dillery).
19 The Jewish Appropriation of Hellenistic Historiography (Gregory E. Sterling).
20 The Greek Historians of Rome (Christopher Pelling).
21 The Early Roman Tradition (Hans Beck).
22 Memoir and Autobiography in Republican Rome (Andrew M. Riggsby).
23 Roman Historiography in the Late Republic (D. S. Levene).
24 The Emperor and his Historians (John Matthews).
25 The Epitomizing Tradition in Late Antiquity (Thomas M. Banchich).
PART III Readings.
26 To Each His Own: Simonides and Herodotus on Thermopylae (Pietro Vannicelli).
27 Rhampsinitos and the Clever Thief (Herodotus 2.121) (Stephanie West).
28 The Enigma of Discourse: A View of Thucydides (Leone Porciani).
29 Contest (Ago ¯n) in Thucydides (Donald Lateiner).
30 Narrative Manner and Xenophon's More Routine Hellenica (Vivienne Gray).
31 Fortune (tych¯e) in Polybius (Frank W. Walbank).
32 Polybius and Aetolia: A Historiographical Approach (Craige B. Champion).
33 Diodorus Siculus on the Third Sacred War (Peter Green).
34 Caesar's Account of the Battle of Massilia (BC 1.34–2.22): Some Historiographical and
Narratological Approaches (Christina Shuttleworth Kraus).
35 The Politics of Sallustian Style (Ellen O'Gorman).
36 The Translation of Catiline (Andrew Feldherr).
37 Claudius Quadrigarius and Livy's Second Pentad (Gary Forsythe).
38 Fog on the Mountain: Philip and Mt. Haemus in Livy 40.21–22 (Mary Jaeger)
39 Clothing Cincinnatus: Dionysius of Halicarnassus (Clemence Schultze).
40 The Imperial Republic of Velleius Paterculus (Alain M. Gowing).
41 Josephus and the Cannibalism of Mary (BJ 6.199–219) (Honora Howell Chapman).
42 Quintus Curtius Rufus on the ''Good King'': The Dioxippus Episode in Book 9.7.16–26 (E. J. Baynham).
43 Tacitus and the Battle of Mons Graupius: A Historiographical Route Map? (Rhiannon Ash).
44 Feast Your Eyes on This: Vitellius as a Stock Tyrant (Tac. Hist. 3.36–39) (Elizabeth Keitel).
45 Arrian, Alexander, and the Pursuit of Glory (A. B. Bosworth).
46 Toward a Literary Evaluation of Appian's Civil Wars, Book 1 (Gregory S. Bucher).
47 Cassius Dio: A Senator and Historian in the Age of Anxiety (Martin Hose).
48 Ammianus' Roman Digressions and the Audience of the Res Gestae (David Rohrbacher).
49 ''To Forge Their Tongues to Grander Styles'': Ammianus' Epilogue (Gavin Kelly).
PART IV Neighbors.
50 Epic and Historiography at Rome (Matthew Leigh).
51 Ethnography and History (Emma Dench).
52 Tragedy and History (Richard Rutherford).
53 Antiquarianism and History (Benedetto Bravo).
54 Biography and History (Philip Stadter).
55 Geography and History (Johannes Engels).
56 Fiction and History: Historiography and the Novel (J. R. Morgan).
PART V Transition.
57 Late Antique Historiography, 250–650 CE (Brian Croke).
Bibliography.
Index Locorum.
General Index.