E-book
A Companion to Cultural Resource Management
ISBN: 978-1-4443-9605-8
600 pages
March 2011, Wiley-Blackwell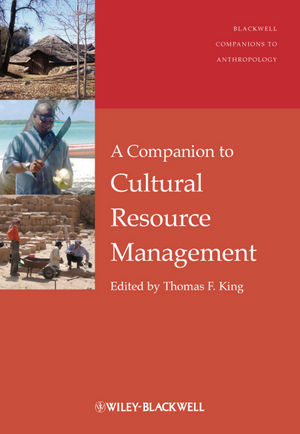 A Companion to Cultural Resource Management
is an essential guide to those wishing to gain a deeper understanding of CRM and heritage management. Expert contributors share their knowledge and illustrate CRM's practice and scope, as well as the core issues and realities in preserving cultural heritages worldwide.
Edited by one of the world's leading experts in the field of cultural resource management, with contributions by a wide range of experts, including archaeologists, architectural historians, museum curators, historians, and representatives of affected groups
Offers a broad view of cultural resource management that includes archaeological sites, cultural landscapes, historic structures, shipwrecks, scientific and technological sites and objects, as well as intangible resources such as language, religion, and cultural values
Highlights the realities that face CRM practitioners "on the ground"
See More
Notes on Contributors.
Acknowledgments.
Introduction (Thomas F. King).
Part I: General Classes of Cultural Resources.
1. Studying and Evaluation the Built Environment.
2. Principles of Architectural Preservation.
3. Archaeology of the Distant Past.
4. Archaeological Sites of the Recent Past.
5. Space, Place and Landscape: Geographies of Cultural Resource Management.
6. Where Nature and Culture Meet: Managing Culturally Significant Natural Resources.
7. History as a Cultural Resource.
8. "This Belongs in a Museum?" Portable Cultural Property.
9. Values are in the Mind: "Intangible" Cultural Resources.
10. Religious Belief and Practice.
11. Managing Language as an Integrated Cultural Resource.
Part II: Special Types of Cultural Resources.
12. In Too Deep: Challenges of Maritime Archaeology.
13. Keeping Historic Watercraft Afloat.
14. Enfants Terribles - Historic Aircraft and Spacecraft.
15. Studying and Managing Aerospace Crash Sites.
16. Rockets, Tang™, and Telescopes: Evaluating and Managing Technical and Scientific Properties.
17. Fields of Conflict.
18. Managing Our Military Heritage.
19. All in Line: The Challenge of Linear Resources and Linear Projects.
20. Rock Art as Cultural Resource.
Part III: Perspectives on Cultural Resource Management.
21. Consultation in Cultural Resource Management: An Indigenous Perspective.
22. Where We're From: The Perspective of a Displaced People.
Part IV: Legal, Administrative, and Practical Contexts.
23. The Legal Mélange.
24. International Variety in CRM.
25. Consultation and Negotiation.
26. CRM in a United States Government Agency: Some Thoughts on Surviving and Succeeding While Working for Federal Land Managing Agencies.
27. Making a Living in CRM: First, A Discouraging Word.
28. The Historic Built Environment: A Planning Perspective from the Western United States.
29. Cultural Resource Management at War.
The Military and Anthropologists in Iraq, 2004-2007: Discovering Shared Interests and Values.
30. A Future for Cultural Resource Management?
Index.
See More
Thomas F. King
is an independent writer, consultant and trainer in cultural resource management, and conducts archaeological research in California and Micronesia. King works extensively with indigenous groups and local communities to ensure that their cultural places and concerns are considered in development planning. He also works as an archaeologist with The International Group for Historic Aircraft Recovery (TIGHAR)tracing the 1937 disappearance of famed aviation pioneer Amelia Earhart. King's books include Cultural Resource Laws and Practice, 3rd Edition,

Saving Places that Matter: A Citizen's Guide to the National Historic Preservation Act, and

Our Unprotected Heritage: Whitewashing the Destruction of our Cultural and Natural Environment.
See More